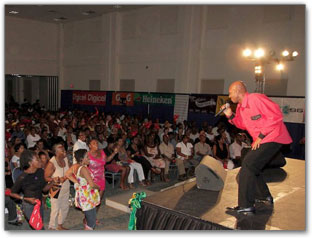 elcome to
DE BIG SHOW Calypso Tent
in Barbados …the bigger, better kaiso tent.
"De BIG Show" now named De First Citizens/Digicel BIG SHOW, opened its doors in 2007 primarily as a vintage show and was extremely well received during the Crop Over Festival.
In 2008 the tent entered the calypso competition arena for the first time, and can boast of 'monarch' success almost every year since.
Since its inception, De Big Show Tent has become one of the most popular calypso tents on the island, and home base to Sweet Soca and Party Monarch winner TC and nine-time Pic-O-De-Crop champion RPB (Red Plastic Bag).

With a cast of Calypso royalty, icons and hot young talent, it is the intention of "De Big Show" to be recognized as the premier Calypso and Soca show in the region.

DE BIG SHOW 2017…
De First Citizens/Digicel Big Show Tent is now in its 10th year, and will launch the 2017 season on June 3rd at Blakey's Bar & Restaurant @ 6pm, with its Press Launch and a free event/party for our fans entitled 'Partying with De Big Show' … where some calypsonians would do a medley of old songs and you will be treated to a preview of their 2017 offering(s).

For Crop Over 2017 action heats up when our Calypso Tent pitches from June 17th (OPENING NIGHT) until July 22nd, with yet another impressive line-up of quality local calypso entertainment.
Check out our show every Saturday at The Sea Rocks Dome - 8pm - ADMISSION: $30.00
We will be JUDGING on Wednesday, July 5th at 8pm - ADMISSION: $40.00

For De First Citizens/Digicel Big Show 2017 Calypso Tent Dates/Calendar CLICK HERE...

SPECIAL SHOW!!!
TBC... "BIG PEOPLE PARTY" at The Sea Rocks Dome


BOX OFFICES
CS Pharmacy - Bridgetown - (246) 427-2047
A&B Music - Sheraton - (246) 437-1574
Ticket Centre - Warrens - (246) 421-9835
Emarald City - Six Roads - (246) 416-7675
Online - TicketPal.com


This year patrons and sponsors alike will be treated to an entertainment package on par with the great Cuban cabaret or the glitz and glamour of Las Vegas.
…the Bigger Better Show!
De Big Show is the most "CELEBRATED" Calypso Tent in Barbados...
...offering a spectacular mix of the traditional calypso infectious beats and the sweet soca sounds
A unique blend of experienced, acclaimed, young and old calypsonians complemented by the "Top Brass" band.


De First Citizens/Digicel Big Show 2017 LINE UP/CAST

| | |
| --- | --- |
| iWeb (Ian Webster) | Nathalee |
| Classic | Mistah Dale |
| Marvay | Biggie Irie |
| Edwin Yearwood (De General) | Jamal Slocombe (JSLO) |
| Mikey | Blood |
| Pompey | Grynner |
| Adrian "AC" Clarke | RPB (Red Plastic Bag) |
| Adonijah | Chrystal Cummins Beckles - Holder |
| TC (Terencia Coward) | |
MC – Mac Fingall


GROUPS CAN BOOK HERE!
Secure your Space Now!

De First Citizens/Digicel Big Show Team – Building and preserving excellence
"Keeping the calypso art form alive"
The Band – De Big Show Band
Band Leader - Bernard Yearwood
Producer & Director - John King
JOIN US ON FACEBOOK
https://www.facebook.com/DeBigShow


TITLE SPONSORS

ASSOCIATE SPONSORS

| | |
| --- | --- |
| Banks Beer | Platinum |
| Sandals Barbados | Williams Industries |
| Barbados Port Authority | SkyMall |
| Promotech | G4S |
| Tudors Funeral Home | 6 Gears Inc. |
| ICBL | Sports & Games |
| Courtesy Garage | |
Get all your Crop Over Festival information for 2017
Check Out the Fun Barbados Guide to Book Activities... Accommodations... Car Rentals... & more...