BARBADOS ZIPLINE TOURS (Caribbean)
Come be part of the
AERIAL TREK ZIPLINE ADVENTURES
in Barbados
and experience the ultimate in Zipline technology mixed with the beautiful ecosystem of this gorgeous island.
PLEASE NOTE:
Aerial Trek is no longer open for business
We regret to inform you that after careful consideration the decision has been made to close Zipline Adventures (Barbados) Ltd. (Aerial Trek) as of April 30th 2015. We have thoroughly enjoyed providing this exciting experience for so many of our loyal customers over the past 8 years.
We apologize of any inconvenience that our closure may cause
Find other Fun Activities in Barbados...

Click here to find more Thrills and Adventures in Barbados...



At Aerial Trek Barbados your adventure begins with a scenic tour to our base camp location, where you'll experience the greatest adrenaline rush from zipping through the air, over one of the most splendid tropical landscapes on the island.
On the Aerial Trek Ziplining Tour in Barbados your expedition will consist of a course over 1000ft in length, inclusive of eight platforms, with the highest platform being over 100ft and the longest Zipline cable extending to almost 300ft.
What is Zipline Technology?
Zipline Technology (Barbados) is similar to that used for rock and mountain climbing, featuring a double line with redundancy for the safety of users. It is a cable suspended with a pulley which is mounted on an incline, designed to transfer persons from one level to another, over remote areas like a rainforest canopy. (AKA - flying fox, zip wire, aerial runway, aerial rope-slide, Tyrolean crossing)
The courses are built to standards approved by the Association for Challenge Course Technologists and are constructed by International Construction and Rigging Company Ltd.
About Aerial Trek Ziplining Tours in Barbados
Aerial Trek Barbados is located in the central part of the island, which is known for its landscape of natural vegetation, at Walkes Spring Plantation, Jack-in-the-Box Gully in the parish of St. Thomas.
Before commencing your Tree Top adventure tour, you will be given your safety briefing and outfitted with safety gear. Your tour then travels over eight platforms, each manned by our experienced and dependable guides. Our guides will provide you with information on various areas of the eco-system and educate you on the geological formations, as you take in the exhilarating aerial views of the gully.
After your awe-struck experience there will be a short walk back to the main location, where you can have a refreshing drink, and purchase your branded souvenirs at the Tree Top Shop.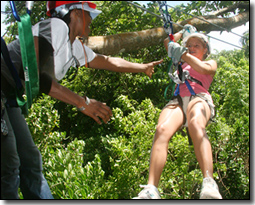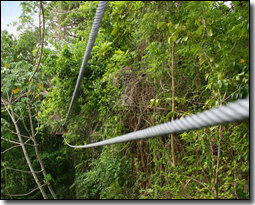 Safety Gear Provided:

Harness system
Helmets
Gloves.
For Safety, Construction & Equipment information click here
Tour Requirements:
Enclosed and comfortable footwear is required for this tour (sneakers).
Ladies are not allowed to wear skirts or dresses.
Minimum Age limit: 12 years old.
Maximum weight limit: 250 lbs (must be able to fit into harness)
The last Zipline tour begins at 2pm daily.
All booking should be made (48hrs) prior to desired tour date to ensure availability.
This tour is not recommended for pregnant women, persons with back or heart problems, or those with limited mobility.
Opening Hours:
Daily: 9am until 2pm
Duration - 1 Hour
Rates
BOOK NOW! Don't miss this Zipline Adventure Tour with Aerial Trek Adventures

To Get here check out our Getting here Map!



Also Check Out!
Trekkers Outdoor Adventures Hike and Cave Tours