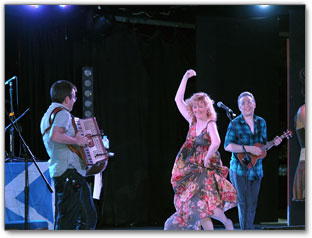 n Barbados, the
CELTIC FESTIVAL
is a week of celebrating the Celtic Connections between Barbados and the Celtic countries of Scotland, Ireland and Wales.
Musicians from Scotland and Ireland usually take part in some of the major events, while plenty people of all ages, from various parts of our community participate in the events.

History
The Celtic Festival in Barbados is a celebration of the Celtic cultures and heritage from the early Europeans (Welsh, Irish, and Scottish) in Barbados. It all began when a Welsh gentleman called Mr. Palmer visited his daughter Ruth and fell in love with the island and its British influence, causing him to later bring his choir back to the island. Since then, cultural exchanges have been the norm with folk choirs and cultural performers from Wales, Ireland and Scotland visiting Barbados every year for the Celtic Festival sharing their culture.
During the Festival you will be entertained by cultural music and folk dancing from respective countries. There are a variety of events like fun nights, concerts and sports events like the Highland Games and Rugby.

For many years the event was organised by Mr. Palmer's daughter Ruth Williams, a Welsh resident living in Barbados.

It is currently organised by Carol Anderson of Scotland
Barbados Celtic Festival
...a Festival of Music and a fusion of Flavours!

The Barbados Celtic Connection
There is a great long history between the Celtic Countries and Barbados going back to Cromwell's time, when white slaves and indentured servants were sent by ship to work in the sugar industry.
Barbados's Independence Day is Scotland's St Andrews Day, the 30th November.
The St Andrews Cross from Scotland is on the Barbados national emblem, where a slave's hand holds two crossed canes in the shape of the Scottish St Andrews Cross.

Barbados Celtic Festival 2018: May 23rd - 27th
Click here for Celtic Festival 2018 Calendar, Event Dates & Details...
Join us ihis year the ultimate Celtic Festival in Barbados!!!

Book now and secure your space!

Email us for more information...
Celtic Festival Barbados is supported by

Barbados Tourism Authority (BTA) UK
Elegant Hotels Caribbean
Highland Springs
Banks Beer
CapitaL Media HD
Cockspur
Little Good Harbour



BARBADOS CELTIC FESTIVAL
C A R I B B E A N

More Barbados Festivals...

Use the Fun Barbados Guide to find other Things to do and to learn more about the island!