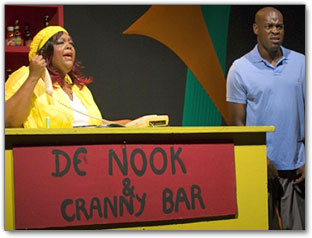 he
LAFF-IT-OFF Productions
in Barbados is a humorous show which takes a critical and sarcastic look at local and regional issues, whether political or social.
This annual production is based on the art of improvisation, which may cause the script or production to be altered occasionally to incorporate major "late breaking" developments.
Because Laff-It-Off productions are flexible and can change to suit its audience, the performances are embraced by Barbadians both living in Barbados and abroad.
As a comedy, Laff-it-Off scenes are filled with side-splitting skits conceived and developed by the cast and production team. The performances are predominately Barbadian political and social themes
History
Laff it Off was originally developed by Community Productions in September 1985 to promote popular theatre in Barbados.
The original trustees were Thom Cross, Ian Estwick, Guy Goring and Tony Thompson
Laff it Off Inc. was incorporated in March 1993 with Cross, Estwick and Thompson. Cross directed most of the company's stage productions between 1985 to 2000 and Thompson was the senior actor in these performances.
Cross resigned in 1997 and was succeeded by his wife Cecily Spencer-Cross, a qualified and regionally respected theatre artist,who is now responsible for directing the company's productions.
Thompson resigned in 1999 to take up a career in broadcasting but continued to perform as a member of the cast until 2007
Estwick remains a director and is the company's producer and manager.
At least one new actor is included in the cast each year and students in theatre arts from Barbadian secondary and tertiary institutions are apprenticed to the back stage crew from time to time
The Laff-it-Off Show is now staged annually from January to April.
CAUTION:The Show has heavy dialect and may get raunchy in places

Check out schedule/dates for Laff-it-Off 2018 " SIZE 'ROUND' "


Laff it Off 2018 " SIZE 'ROUN' "
- January 20th to March 24th (every Saturday)

LAFF-IT-OFF PRODUCERS/CAST & CREW
Producers - Click here...
Cast and Crew - Click here...
BOX OFFICES - Click here!