ACTIVITIES/BY NIGHT

here's just so much to do in Barbados at night that you may need to rest up during the day just to be able to take it all in.
While most destinations tend to offer night activities that cater primarily to visitors, here in Barbados the majority of our night spots enjoy a friendly mix of visitors and locals together.

NIGHTCLUBS


For late night socialising and good live and DJ music, the seafront Harbour Lights on Bay Street is one of the top clubs among visitors and locals. This semi outdoor setting offers up live music on weekends and some week nights, and on certain nights the cover charge includes free drinks.
This is a west coast staple haunt. Fashioned after an English pub right down to the red phone booth outside, the Coach House always has a congenial atmosphere and there is usually something happening here. Good food and a rousing atmosphere make it a fun stop.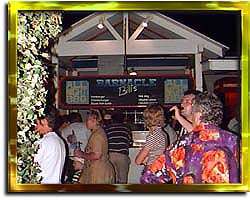 Nestled in the heart of 'The Gap' in St. Lawrence, the Ship Inn is one of the longest-standing hang-outs for live music, food, and socialising. There is an outdoor courtyard with a bar and band shell as well as an indoor pub where the bands most often perform. Live music nearly every night, late night eating and a cover charge.

THE CASBAH


This exquisite west coast nightclub and bar, nestled in the heart of Holetown, caters to those in search of sophistication and comfort. With its Moroccan charm, air-conditioned comfort, classy waiter service and silky throw cushions you could easily feel like royalty. Come dance the night away in the Casbah, or relax in the Baku Courtyard Bar and Brasserie where great food and magnificent mixes can be found.

AFTER DARK


Right in the midst of the St. Lawrence Gap action is the After Dark.

THE BOATYARD


Just outside of Bridgetown heading to the south coast is the popular beachfront Boatyard with its semi outdoor restaurant and courtyard bar. This is a famous happy hour haunt, especially with the locals. The happy hours are 6 pm and 10 pm and by the second happy bell, the courtyard, beachfront and bar are usually filled with patrons, particularly on Friday nights.

Live music on weekends includes top local bands and occasionally groups from the region. Fridays are their biggest night and Saturdays often feature 'oldies' music by local bands and DJs.




Copyright © 1997 Fun Barbados, All Rights Reserved.
Help - FAQ - Company Info - Feedback