CULTURAL/FLOOR SHOWS
Enjoy a sophisticated evening of dinner and dancing under the stars and take in a colourful floor show of music and local culture.

PLANTATION TROPICAL SPECTACULAR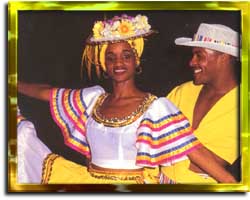 This long-standing colourful presentation is a show not to be missed. The costuming and choreography are both quite stunning and there are other facets of the show including the standard hotel floor show fare with an added flair. The Plantation Garden Restaurant, just south of St. Lawrence Gap on the main road, offers dinner, show, steelband music and dancing to one of the region's finest bands, Spice & Co.
Transportation to and from your hotel can be included in the evening's package. Open Wednesdays and Fridays only.
HARBOUR LIGHTS
Every Monday night, Harbour Lights is transformed into a dazzling fanfare of colours, fire and food. This exciting dinner show will entertain you in true Bajan style, showing off local dance and performance talents while satisfying your palette.
For late night socialising and good live and DJ music, the seafront Harbour Lights on Bay Street is one of the top clubs among visitors and locals. This semi-outdoor setting offers up live music on weekends and some week nights, and on certain nights the cover charge includes free drinks.
This one-of-kind four-deck cruising vessel has everything including an air conditioned lounge, stage area and dining facilities. The MV Harbour Master not only sails the west coast day and night, but frequently hosts plays, concerts, floor shows and specialty events. So check your hotel or local press for scheduled events. It is a cruise with a difference.
This Barbadian buffet dinner and historic cultural show is set in the Barbados Museum's picturesque courtyard at the Garrison. Now into its 16th year, 1627 And All That traces the history of Barbados from colonization to recent history. The performance underscores how the British and African cultures blended to create this unique Barbadian culture through music, rhythm, dance, drama and costume.
Shows are held every Thursday and Sunday night. Contact Cora Cumberbatch at 428-1627 for more details.
Many of the larger hotels have evening floor show entertainment that often includes fire-eating, belly dancing and limbo performances. These shows often have a humourous edge and invite audience participation. The show usually concludes with dancing to a live band.

Copyright © 1997 Fun Barbados, All Rights Reserved.
Help - FAQ - Company Info - Feedback