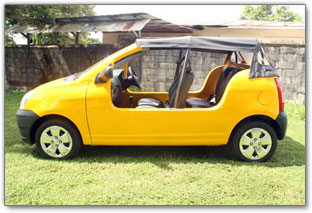 With CORBIN'S CAR RENTALS
in Barbados, renting a car is easy! At our award winning, low cost, car hire company we offer you the best in Caribbean car hire service at the most economic and competitive rates for short and long term rentals.
This family-owned car rental and auto repair company offers one of the largest fleets of vehicles on the island. A long-standing garage, all rental vehicles are mechanically sound and well maintained.
Corbin's Car Rentals Barbados
Go where you want & see what you want...
...at your own pace...
Corbin's Car Rental Fleet includes:
Mokes
Compact/Small cars
Mid-sized sedans
Jeeps (hard-top)
7-seater vans
Our Rent A Car Services & Car Hire packages include the following:
Free Pick Up & Delivery
Driver's permit
Full collision damage
Insurance coverage
Free Road Maps
24-Hour Road Assistance
Don't be stuck in your hotel room waiting on a tour bus, explore Barbados for yourself in one of our rental vehicles.


Check out Corbin's Rent A Car Fleet of vehicles for Hire...