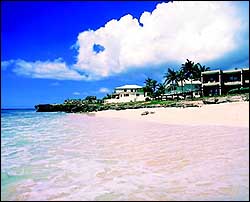 lustered on the southern most tip of the Caribbean island of Barbados, Inchcape resides on Ananias Point. Facing into the gentle breezes of the trades, Inchcape overlooks one of the islands most beautiful unspoiled white sand beaches to it's left while foamy rollers pound against the coral rocks at the western end of Silver Sands' beach. Inchcape is surrounded by brilliant clear blue water.
Visibility is undisturbed at up to fifty feet. Swimming and snorkeling are superb. Surfing is exceptional in the shorebreak only steps away from your house. Most noteworthy is it's location as one of the best wave windsurfing spots on earth. Life is casual and unhurried in the true Barbadian tradition.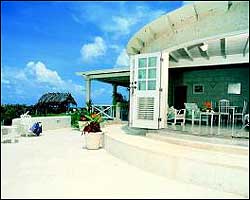 Six spacious individual houses in the compound, all with colourful gardens of tropical flowers and views of the sea, are tastefully furnished and completely equipped for your comfort. Each house has it's own style, character and quality. The buildings are named to match their special features.
"Seaside" was at one time the seaside resort of a plantation owner. It was built in 1920 from the island's natural stone, the coral stone, and beautifully restored in 1993, perfectly preserving it's colonial style. The "Seaside Cottages" are very special accomodations, providing lifestyle and living it at it's best. It does consist of three very upmarket 1-bedrom apartments with a number of luxury features, stretching over 2 floors and with beautiful views of the ocean. The "Seaside Cottages" also function as a two bedroom or three bedroom house depending on the requirement one might have and can be ideal for bigger groups or families.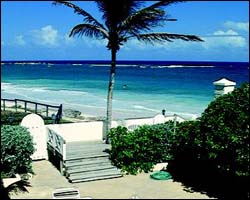 So is the "Gatehouse", once developed from the former stables and today a wonderfully restored, very Caribbean looking house, which can function as three individual apartments as well as two bedroom or three bedroom house. Especially the "Tower" unit is in a class of it's own. "Sunrise" is in a beautiful location right on the water's edge and so is "Sunset" to it's west. House "Courtyard" and the Garden Apartment which are also part of an old plantation house complete the variety of accomodations at Inchcape.
Spanish, French, English and German spoken!
Please e-mail us for fastest response!