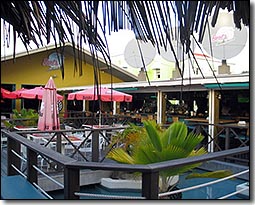 ome to
BERT'S BAR, BARBADOS hottest SPORTS BAR & RESTAURANT
and see why it is the perfect place to EAT, DRINK and CHILL on the island!
Experience state-of-the-art satellite sports coverage, as you enjoy mouth-watering authentic stone-fired Pizzas and Bert's world famous Banana Daiquiris which have been a favourite since 1976.
Cheer your team at the bar and have a delicious meal while watching live sports action on the wall-size projection screen and (24) plasma screens located throughout the Bar & Restaurant and even pool-side.
At Bert's you're offered an extensive menu of traditional North American and Bajan favourites, as well as a great Kids selection. There're Lunch Combos and a Pizza Hotline for ordering takeout.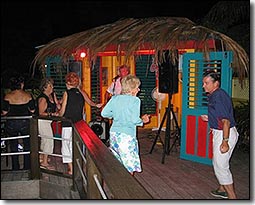 Bert's Bar & Restaurant
...a Dash of Sports ...a Splash of Island vibe
The Perfect Tropical Mix!!!
Whether you want to Eat, Drink or Chill, Bert's is the Perfect Mix!
To find out what's on in sports at Bert's, click here!
Open Daily: 11:00am - Midnight (7 days a week)
Times vary to accommodate Sporting Events.
Located on the South Coast
Try our "Breakfast Omelette" between 11:30am - 3pm (served earlier for early games)

Lunch & Dinner: We have an all day menu, available from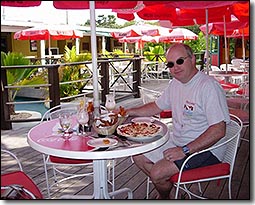 11:30am until 10:30pm.
Happy Hour & a Half: 4:30pm - 6pm Daily
Pizza Hotline: (246) 431-1111
Souvenirs & Sports wear also on Sale
Dress code: Casual, but we ask that guests cover appropriately with wraps, tops and shorts.
Reservations preferred for large groups only.
Maximum seating: 220 pax
No Smoking - at the Bar
Non Smoking - Dining area