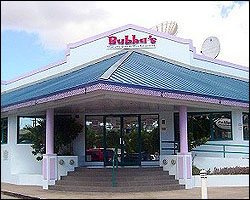 here do you go on your vacation in Barbados to see that big game you're missing?
Come to
Bubba's Sports Bars & Restaurant
on the south coast of Barbados, where they bring to you, via two satellite dishes, all the major sports events either on their three 10 foot video screens or on the 12 additional TVs in fully air-conditioned comfort. Bubba's offers great food and drinks at reasonable prices!
Bubba's Restaurant & Sports Bar offers a combination of cuisine and atmosphere while you track your favourite teams, games and matches in NBA Basketball, English Premiere League Football, Formula One Racing, NFL Football and occasionally Heavy weight Boxing, Golf Tournaments and Hockey.
For your convenience we have provided two levels:
Non-Smoking section ? on the top level (Quieter and suited for families and business meetings)
Smoking section ? on the bottom level
Bubba's offer:

Breakfast (Sundays only: 8am ? 10:30am) breakfast menu
Lunch
Dinner
Open Daily
For Updated Menu click here!
Click here to check what games are been shown
Call for weekly game specials.