ome hangout waterfront at the
Tiami Dockside Bar & Restaurant
in Barbados, located just on the outskirts of the historic Bridgetown.
Dockside at Tiami is the perfect place to unwind, have a drink and enjoy a delicious meal fresh off the Barbeque grill. Enjoy your Lunch dockside, at our covered open-air location in a relaxing atmosphere overlooking the water.
DOCKSIDE AT TIAMI RESTAURANT
Open for Breakfast
MONDAY to FRIDAY: 12:30am – 3pm

Open for Lunch
MONDAY to FRIDAY: 6:30am – 10am
Come enjoy delicious Barbeque Platters, sandwiches, hamburgers and MORE
...while relaxing in our beautiful dockside setting!
(Special Bajan Menus Daily!)
DOCKSIDE AT TIAMI BAR
Chattel House, Rum Shop style architecture
Open: 6:30am until...

FREE wifi available
_________________________
Join us every Friday at 6:30pm for
Dockside at Tiami
"Moko Jumbie Dinner Show & After Party"
(SUSPENDED until further notice)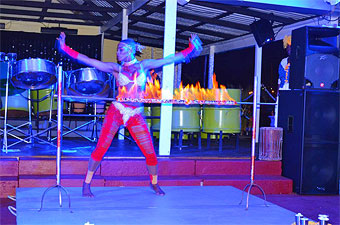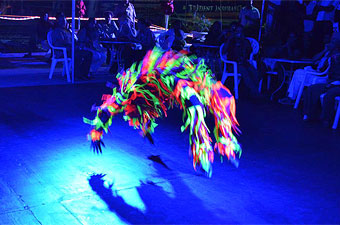 Join us waterfront for an evening of Cultural Entertainment, a mouthwatering Bajan-style Buffet Dinner, a selection of Desserts, and a complimentary Open Bar.

View Photos...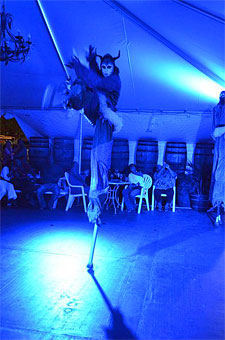 The After Dinner Moko Jumbi Floor Show
Rachel Pringle, our infamous hostess, will introduce you to the history of the steel band, followed by a lively interactive floorshow by local Bajan Characters.
ENTERTAINMENT by:
The Mosaic (18-man) Steel Orchestra ...the largest steel pan band on the island
Limbo Dancers …will teach you the enticing art of limbo
Shaggy Bear (acrobatics) …said to represent an African witch doctor figure
Green Monkey (Acrobatics)
Mother Sally …represents female fertility with an exaggerated 'derrier'
Nutsellers and the Mauby Woman
The Moko Jumbies (Stilt Walkers)
('Moko', a reference to an African God)
('Jumbi' , the West Indian term for a spirit)
The After Show Party
The evening ends in a full party atmosphere, with DJ music and infectious Caribbean rhythms that will keep you moving.

US$90.00 (Adults) / $67.50 (Teens) / $45.00 (Kids)
Roundtrip-trip Hotel Transfers included

Advance Bookings Required
Book Here Now!!!
Secure your space today!

See you this Friday from 6:30pm - 10pm
The Moko Jumbie Dinner & Floor Show

The evening promises to be filled with explosive rhythms , costumed dancers, a wide varied full Bajan buffet , unlimited drinks and rhythmic music. The high energy of Barbados' top steel orchestra Mosaic, the only place in Barbados to witness an 18 man steelband, welcomes you with an unforgettable opening set.

The Bridgetown Market skit takes you back to the early days of market life, as it was known every Saturday morning. Savour a local sweet from the trays of the vendors, while the Mother Sally, Shaggy Bear & Green Monkey, thrill you with their antics & pure agility. Learn the incredible history of how the steelband came to life, a moment never to be forgotten. The Limbo dancer & Moko Jumbies will amaze you with their skills & creativity.

A delicious buffet will be available during the evening, complete with unlimited house drinks, an unforgettable evening of music & dance awaits!

We eagerly look forward to the rebirth of the Moko Jumbie Dinner Show, as we prepare to offer an ambiance truly fitting for royalty.