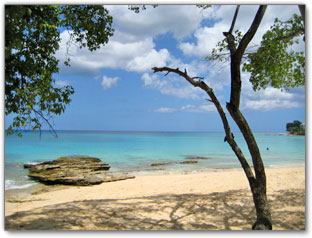 he
Batts Rock Beach
in Barbados is considered a nice family beach, ideal for the kids, with calm clear waters and lots of trees for shade. It's also good for relaxing, swimming, snorkeling and taking sunset photographs.

At the northern end of the beach tends to have clearer and calmer waters making it better for swimming.


At the southern end has a small reef with occasional choppy waters and tends to be
rocky. Locals sometimes snorkel, fish or surf in this area. Look
out for sea urchins in some areas near the reefs.
There's also a wooded area of trees with benches and tables for picnicking or just hanging out.


Located just in front of the car park is a play park for kids 13 years and under.


On most days many Catamarans make this beach one of their stops on the west coast when cruising. There are also some ruins of a Dance Hall which was located on this beachfront some years ago. Inland you can find a Drinks machine and a phone booth by the public facilities.


For those looking to plan a day at the beach, there is a Beach Bar which can be rented for special occasions from the
National Conservation Commission (NCC).
Ph: (246) 425 1200, (Rent: BDS$117.50 - updated 2011)
.
It includes a kitchen and bar.
(The bar is not open to the public)


This beach also attracts some local surfing and body-boarding.


Batts
Rock Beach can be found on the Caribbean Sea side of the island, on the South-west Coast of Barbados in the Parish of St James/Michael.
CAUTION
DO NOT TOUCH the Manchineel Tree or its Fruits. (POISONOUS - Causes BLISTERS)
DO NOT STAND UNDER the Manchineel Tree when it's raining. (liquid from tree may cause BLISTERING)
(The tree has green shiny leaves - The fruit is small apple–shaped – The tree is usually marked by red bands)
Where there is wateresports activities persons should be cautious when entering outside the area marked with orange coloured buoys

Public access to beach:
Vehicular and pedestrian access with signage.

Crowd during the week
:
Usually small (
medium - when catamarans stop-off
)

Crowd on weekends
:
Medium


Other west coast Beaches close by:

Located to the south of the beach is
a small stand of woods separating Batt's Rock Beach from

Paradise Beach

which can be accessed
by walking beachfront
.
Further south next to Paradise beach is Freshwater Bay, followed by Pile Bay and
Brighton Beach
which can all be reached via beachfront..

To the north of Batt's Rock is Prospect beach (approx. 600m) which is not accessible by beachfront from this area.


More West Coast Beaches in Barbados...

At some point during your holiday try a
guided island tour

and explore the island,

or
Rent-a-car
and have your own
self-guided tour of Barbados'
many
attractions
and
Night time
activities.
Note: Seasonal weather can cause a change in conditions
_____________________________________________________________
BEACH ACTIVITIES & WATERSPORTS:
Snorkeling / Swimming / Body-boarding / Surfing / Sun Tanning / Some surfing
Watersports in Barbados

AMENITIES

| | | | | | | |
| --- | --- | --- | --- | --- | --- | --- |
| Lifeguard | Facilities | Beach Rentals | Vendors | Benches | Play Park | Parking |
| Yes | Yes | N/A | N/A | Yes | Yes | Yes |
Facilities usually includes: Showers / Toilets / Changing areas


| | | | | | |
| --- | --- | --- | --- | --- | --- |
| Wheelchair Access | Phone Booth | Rangers | Picnic Tables | Hair Braiding | Shaded Areas |
| Yes | Yes | Yes | Yes | N/A | Yes |
____________________________________________________