oin us at
ATV QUADS 4 U
in Barbados for a fun-filled Tour on our All Terrain Vehicles / Quad Bikes!
PLEASE NOTE:
ATV Quads 4 U is NO LONGER OPEN TO BUSINESS!!!

Click here for more Barbados Tour options...

Be part of an exciting quest to an ATV adventure tour, while you take in a scenic tour of the most remote and picturesque spots on the island with our experience guides.
Your ATV Guided Tours will take you on-the-road and off-road so you can enjoy the All Terrain like no other vehicle can.
The terrain varies from the palm tree fringed west coast to the rough and rugged highlands of the east coast. This guided off-road expedition explores the lush outback of Barbados, and educates you on points of interest on the island, as you travel through back roads, farm tracks, across hedgerows, while enjoying some of the most astounding views
ATV Quads 4U is a family run company, operating in Barbados from 2006, but with several years in the business in the UK.
At ATV Quads Barbados our aim is to see you have a wonderful holiday experience and a great time on our tours, while putting your safety first.

ATV Tour Information: (Duration approx. 3hrs)
Combination of both Guided Off-Road and On-Road Tours - Get the best of both worlds! Photos
Includes:
Introduction: Learning to ride ATVs
Tours of all terrains - from the gentle palm-fringed west coast to the east coasts rugged highlands
Riding through hills of mahogany trees and local fauna
Stops for photos of panoramic views
Transportation & Refreshments Included
Open Daily: 9am - 5pm
Tours Times: 10am & 2pm
QUAD BIKES/ATVs available
Yamaha 300cc - Automatic (single & double seaters)
Our 4-wheeled bikes are safe, stable, and easy to ride, and are checked after every excursion.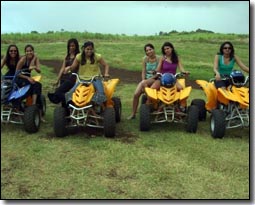 Enjoy your Quad Bikes / All Terrain Vehicle Tours in Barbados.
Operation Information:
Riders Requirements: Valid drivers licence
Children are welcome as Passengers - 9 Years & over
We only take up to (8) people at a time for safety reasons.
Helmets are provided as a safety precaution, and every one is given instruction on operation.
Maximum weight - 290 lbs.
Recommended for persons in good health, good physical condition and with no back or neck conditions.