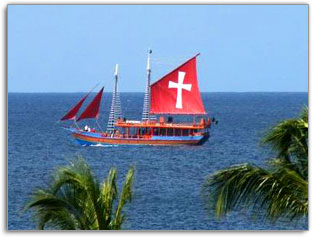 ome join
Black Pearl Party Cruises
in Barbados onboard the
JOLLY ROGER Barbados
Pirate Ship, for a fun-filled Sailing Cruise Voyage along the tranquil crystal clear waters of the Caribbean Sea, just off the palm-fringed coastline of gorgeous beaches on the island.

This original Pirate Ship …the completely refurbished JOLLY ROGER 1 ...is now in the possession of Black Pearl Party Cruises Inc. and offers a variety of themed pirate ship cruises and adventure voyages, with a treasure chest of booty & goodies, as well as a bung-hole of delicious grub and barrels of grog.


Our gift shop is open onshore as well as on the boat for your special one-of-a-kind treasures that will help make your memories last a lifetime.

On land Black Pearl Cruises is also home to Jolly Roger Tavern Dockside Bar & Restaurant where you can relax and hang out for pre-cruise drinks, post cruise limes and after-work limes.


Don't miss this opportunity to join Black Pearl Pirate Cruises on our daily voyages, with our friendly staff while you party and enjoy our Captain's famous 'Rum Punch'.


Aye there Maties!
Bring your Sea Legs… Batten down the hatches…
…and let's Party!
Black Pearl Pirate Party Cruises - Sea Tours offered on the Jolly Roger 1 Barbados:
"Adventure Cruise" 4HR SNORKEL & SHIPWRECK LUNCH CRUISE:11am to 3pm
Available (DAILY)

"Taste Of the Caribbean Cruise" 4HR SUNSET CRUISE & DINNER SHOW: 6:30pm to 10pm
Available (Thursdays ONLY) - View Photos...

2HR Shipwreck & Turtle Snorkel - Boat Tour: 11am to 1pm
Available (DAILY) – (NOT onboard the Jolly Roger)
CLICK HERE! for Rates
For more information on Cruises & Tours CLICK HERE…


Roundtrip transportation is also included to various accommodations & the Bridgetown Cruise Terminal.
BOOK NOW!!!
Secure your Space Today

EMAIL US... for seasonal Local and Caricom Rates & Group Specials


PRIVATE Charters can also be arranged for special events and functions, such as weddings, stag parties, bridal showers, birthday parties and Christmas parties, as well as crop over fetes and events. EMAIL US...

WEDDINGS by Black Pearl Party Cruises on the Jolly Roger 1
Our Wedding Packages cater to any size wedding, while creating a tropical experience that will last a lifetime, as you exchange your vows on that special day.

Get married for a day on our Fun Pirate Wedding at sea.

The Jolly Roger Tavern Dockside Bar & Restaurant is open daily with HAPPY HOUR every Friday from 4pm

CHECK OUT all Events aboard the Jolly Roger 1...


Come ...Eat ...Drink ...Party ...Snorkel ...Walk the Plank
...or be Swung from the Ship!