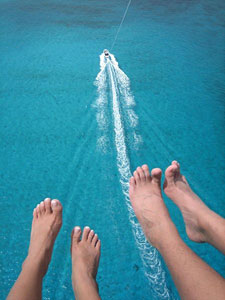 Fly like a bird with FALCON PARASAILING in Barbados…get wet or stay dry, it's your choice, as you soar through the sky and over the tranquil azure Caribbean Sea.

PLEASE NOTE:
All Parasail Flights have been suspended until further notice.
We apologise for any inconvenience or disappointment this might cause.
Falcon Parasailing Adventure will be the "HIGH POINT" of your vacation…Fly alone or Tandem with a friend…It's easy, safe and fun for the entire family.

As you slowly rise into the air with the tropical breeze in your face, the bird's eye aerial view of the island's coastal beauty is breathtaking, and an experience you will never forget.
Falcon Barbados Parasailing Flightseeing Charters

OPEN DAILY: 8am – 6pm
Duration of Parasail Flights: approx. 10 – 12 minutes

Parasail Flight RATES: (Solo or Tandem flightseeing)
Standard flight: 600ft – US$80.00 per person

Premium flight: 800ft – US$90.00 per person

Observers/Non-Flying passengers - US$20.00 per person
(Harness and Life Jacket is provided)

Advance Bookings Required - BOOK HERE!!!



Note:
- Boat capacity: (6-) pax. (+ (2) crew)
- We only fly/pick-up along the west & southwest coastline
(From Browne's Beach/Carlisle Bay to Almond Beach)
- Where we fly depends on wind direction and strength on the day
- We reserve the right to refuse flight

What to wear?
We recommend you wear beach/swim wear
Dresses are not recommended

SAFETY
We have the highest safety standards on the island, with experienced and diligent internationally trained staff, and we are members of the Professional Association of Parasail Operators (PAPO).

Speed limit: 20mph/32kph

Boat Safety - We use a high powered boat specially designed for parasailing. The boat is serviced on a regular basis to ensure that its engine and all mechanical instruments guarantees optimum performance while flying our clients.

Parachute Safety - Our parachutes are checked daily for soundness to ensure that they meet international safety standards. We never fly clients on rainy days as may affect the proper functioning of the parachute.

First Aid - Our team is also trained in first aid and to administer CPR.


Falcon Barbados Parasailing Adventures & Aerial Tours