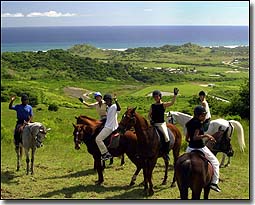 t
RIDE BARBADOS
we offer Tourist rides and Lessons for all!
Within the Scotland District National Park you?ll find the most picturesque scenery in Barbados and you?ll find Us! On our own Barbadian Warmbloods, we trail the original Rain Forest of Mahogany and Bearded Fig Trees, from which Barbados was given its name. Inhabited by the Green Monkey, hosting ponds with Oriental Lotus Flowers and Wild Ducks over hills with a mesmerizing view, of the East Point Light House and the Morgan Lewis Mill.
THE BEACH!
Heading East through cart roads lined with Coconut Trees, the dominating thunder of the Atlantic Ocean increases its volume hoof by hoof. These are waters that may not invite swimming but transcends an overpowering sense of peace and physical exhilaration felt by both horses and riders.
WE TEACH!
Ride Barbados is a member of the Barbados Equestrian Association and we do English riding only. Hard hats are obligatory on all rides and will be supplied by us.
Private Lessons in both Show Jumping and Dressage can be arranged. Our In-House Instructors compete up to the standard of Prix St George & Intermediare 2 in Dressage and they form part of the 2003 Barbados Dressage Team at the Pan American Games.

HORSEBACK TOURS & LESSONS:
Hills & Forest - 1 hour
Hills, Forest & Beach - 1 ½ hours
Hills, Forest & Beach - 2 hours
Private Lessons - 45 minutes


COMPLIMENTARY
¤ HARD HATS
¤ DRINK
¤ TRANSFERS, special conditions apply.
OPENING HOURS FOR BOOKINGS
7:00 AM - 9:00 PM EVERY DAY
OPENING HOURS FOR RIDES
8:00 AM - 4:00 PM EVERY DAY
INFORMATION WE NEED
¤ CHILDREN, ages etc. as more guides may be needed.
¤ RIDERS ABILITY - Previous riding experience.
¤ RIDERS SIZE, height and weight (weight limit is app. 200 - 220 pounds )
WE STRONGLY ADVICE
¤ MORNING RIDES, for both riders and horses the morning is cooler and the sun have not yet heated the ground.
¤ LONG PANTS, bush may scratch & stirrup leathers may rub.
¤ SHOES, that stays on - no slippers.
¤ SUN BLOCK - Don?t be deceived by the cool breeze
¤ BRING A CAMERA - For images ?beyond your imagination?
CASH ONLY -