Barbados Crop Over Festival - History
---
CROP OVER: A NATIONAL FESTIVAL OF CULTURE, MUSIC & REVELRY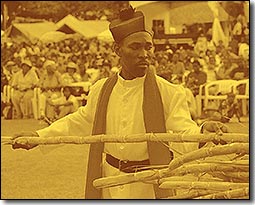 What is Crop Over in Barbados?


he mixed origins of the history of Crop Over reveal it to be a Barbadian (Bajan) Folk Festival which evolved out of the harvest festivals of two cultures, England and West Africa.
Crop Over is a Barbadian Folk Festival which evolved out of the harvest festivals of two cultures, England and West Af rica. This colourful national celebration is also one the Western world's oldest festivals, dating back to the 1780s' when plantation workers proclaimed the end of the sugar crop with feasting and dancing in the plantation yards. At that time the end of the crop and grueling field-work was cause for celebration. It was a plantation event marked by the arrival of the last cart of canes and punctuated by a day of dancing and frolic. As the last procession of decorated carts made their way into the mill yard, a labourer would beat a make shift gong announcing the "Crop Over."
The very last cart carried "Mr Harding" an effigy made of cane trash stuffed into an old pair of trousers and coat, with a top hat on its head. Mr. Harding symbolized that period between sugar crops, when employment was difficult to obtain and money was scarce. This time was referred to as "Hard Time" so that the crop time and the hard time divided the Barbadian year.
The day's festivities comprised of three main aspects, local food, music and dance. Food was extremely important and included meat made into stews, pudding and souse and roast pork. There were also pots of rice & peas as well as coconut bread and pone.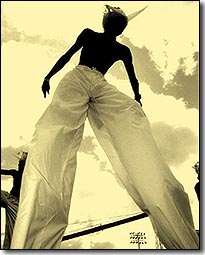 Entertainment came in the form of the the Landship whose members performed to the music of the "Tuk Band" with its accompanying troupe of "Shaggy Bear", a man dressed in an outfit made of plantation shags or sheaves, the "Mother Sally" another man dressed up like a woman with exaggerated bosoms and buttocks and the Steel Donkey or "Donkey Man" who danced in a donkey's costume with four legs, but when in silhouette, looked like a man riding a two-legged animal.
Of course no folk festival is complete without dance and many dances were created over the years. Very important too was the art of stilt walking. The grand finale of the festivities was the burning of the Mr. Harding effigy, which symbolized the hope that the hard times to come would not be too severe.
In the 1940's, the Crop Over Festival ended as the Sugar Cane Industry in Barbados declined, but the festival was revived in the 1974 and has since grown from strength to strength. It is now the premiere festival of Barbados and has now become a fusion of old and modern elements of Barbadian culture, attracting many visitors every year.
Check out the Crop Over Festival Today!
History of Calypso Tents in Barbados
History of Bajan Costumed Kadooment Bands (Mas Bands)