he prestigious
Sass Beauty Salon and Mobile Hair by Donna
offers full hairdressing services, Manicures, Pedicures and Wedding packages, ideal for the entire wedding party. Sass and Donna's Mobile Hair Service is a modest, but personal salon, which reflects its charming team, while being fully equip to international standard of other boutique salons.
MOBILE HAIR BY DONNA
Donna's Mobile Hairdressing is always in high demand and has been providing a professional service to many for over 14 years. This mobile service , has undoubtedly become one of the more prestigious and sought after services in Barbados, while being distinguished as a luxury service that personalises every experience no matter which option you choose. The attention to detail is clear and the use of premium products is never spared. To ensure the best results Sass and Mobile Hair By Donna uses many of the world's well regarded salon brands, such as L'Oreal, Wella, Paul Mitchel, Biolage and Redkin to name a few, while OPI and essieare employed as our nail care brands.
About Donna Smith the Hair Stylist
Donna Smith is Barbados renowned Celebrity Hairdresser with over 27 years experience in the business, and has made a name for herself as a Hair dresser , with her mobile service being in high demand. Donna was trained at Vidal Sassoon in London and has worked at the world renowned Sandy Lane Resort, The Fairmont Royal Pavilion Hotel and has been privileged to meet and work with many fantastic people from all over the world including Bill and Hilary Clinton, Madeleine Albright, Simon Cowell, Ryan Seacrest, Pavarotti and Michael Flatleyto name a few. Donna has also worked with many celebrity weddings including Tiger Woods and with fashion shows, photo shoots, TV and press advertising, stage and movies locally, regionally and internationally.
As a personal hairdresser Donna is always willing to literally go the extra mile for her clients, which is why she is frequently commissioned to travel with her clients, whether it is a short break to a far away destination or a months long expedition or a luxurious yacht or safari.
WEDDINGS by Sass Beauty Salon & Mobile Hair by Donna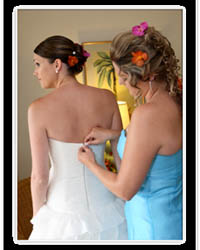 Donna Smith and her team are the preferred choice for weddings with Bridal services that are unsurpassed when it comes to hair and beauty for Bridal Parties and families. The bride, the groom and the full bridal party will be professionally taken care of weather you prefer to relax in the comfort of our fully air-conditioned salon located at the prestigious Fairmont Royal Pavilion Hotel or our personalised mobile hair and beauty service. It doesn't matter if the desired effect is lavishly extravagant or simply elegant, we guarantee you will be well looked after on your special day.
Bridal Packages include:
· Hair and make-up trials
· Hair and make-up on your wedding day
· Manicures and pedicures
· Fresh flowers for your hair
· Massage
We are more than willing to assist in designing or customizing a package that best suits you.
Sass Beauty Salon and the Team
Sass was established in 2002 by Donna Smith and is located at the exclusive 5-Star Fairmont Royal Pavilion Hotel on the platinum west coast of Barbados. The dedicated team at Sass and mobile Hair are committed to providing an impeccable service and are not only highly trained but also have a delightful air and positive demeanor, that really stands out and stays with you long after you have left. Every year the team travel to the USA and the UK to attend refresher courses at the leading hair and beauty institutes as well as shows that release new technology and forecast seasonal trends to make sure they are at the top of the hair and beauty trade in Barbados.

| | | | |
| --- | --- | --- | --- |
| | | | |
| Before After | | Before | After |
SERVICES and Products
Products include
Guinot
for facials,
MAC
mineral and airbrushing for make-up,
Creative
for acrylic/gel nails.
OPI
and
essie
for manicures and
L'oreal, Martix, Redkin, Kerastase, Paul Mitchel
and
Wella
for Hair.
Manicures & Pedicures
Acrylic/ Gel nails
Massages
Facials
Waxing
Reflexology
Full hairdressing services
Make-up
Bridal Services
Mobile Hair & Beauty Services
Servicing:
The Platinum West Coast, including; Sandy Lane, Royal Westmoreland, Port St. Charles & The Fairmont Royal Pavilion, as well as the south coast and all surrounding areas.
Opening Hours for Business:
Monday to Saturday from 9am
After hour service is available for Sundays and all public holidays including Christmas Day, with adequate notice we will be happy to assist you.