THE BARBADOS HORTICULTURAL SOCIETY
HISTORY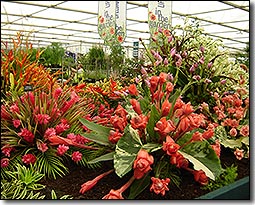 The Barbados Horticultural Society (BHS) was formed in 1927 by a group of thirteen horticultural enthusiasts, led by Mr. H N Leacock. From the beginning the Society has been affiliated to the Royal Horticultural Society, an affiliation that has continued to the present time. The Society was incorporated by an Act of Legislature on April 19th 1928.
The Society has taken up the mandate of promoting horticulture and facilitating its development in Barbados. It is a non-profit, non-governmental organization with a membership of over three hundred.
In 1976, the Society brought the Old Boiling House at Balls Plantation for their headquarters with a small curtilage around the building. They also had their first Flower Show that year in the new headquarters. In 1987, 7.6 acres of land was bought at Balls Plantation to add to the BHS. The long range plan for this is to develop the area into a garden and park for the enjoyment of both locals and visitors to the island.
ACHIEVEMENTS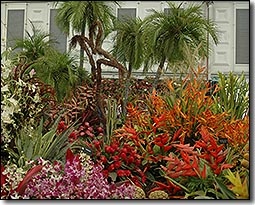 In 1984 the Barbados Horticultural Society exhibited for the first time at the Royal Chelsea Flower Show. Lack of finances prohibited the Society from participating again until 1988, but since then, they have become 'regulars' winning either Gold or Silver Gilt medals in each succeeding year.
In 1994, the Society was invited by the Philadelphia Horticultural Society to be one of the main attractions at the Philadelphia Flower Show from March 6th to 13th 1994. The exhibit displayed was very well received and the reviews were excellent.
In 1996 the Society was awarded the Holford medal by the Royal Horticultural Society for the Best Amateur Exhibit for the Year in the UK.
(BHS) BARBADOS HORTICULTURAL SOCIETY - "OPEN GARDEN PROGRAMME"
Click here for Barbados Open Garden Tours 2018 Dates...
The Horticultural Society's (BHS) Annual Open house Programme allows visitors & locals the rare opportunity of viewing some of Barbados' best private gardens. Local garden-owners welcome enthusiasts to see their personal gardens.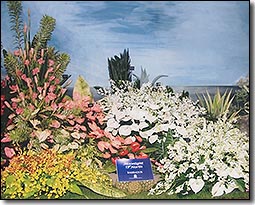 Participating Gardens Open for viewing:
Months: January to April
Days: Sundays
Time: 2pm until 6pm

Admission:
Non-members: BDS$15.00 / US$7.50
Members: BDS$10.00 / US$5.00
One complimentary drink included
BHS - ANNUAL "FLOWER AND GARDEN SHOW"
Click here for Barbados Annual Flower & Garden Show 2018 Dates...
The Barbados Horticultural Society's Annual Flower and Garden Show features the best of flora in Barbados and the Caribbean. It also showcases the horticultural and flower-arranging skills of the BHS, who has consistently won gold awards for its displays at the Royal Chelsea Flower Show in London.
Exhibits by the Bahai Club, the Barbados Cactus Society, Barbados Flower Arranging Society.
Exhibits
Medal
Gold
Silver-Gilt
Silver
Bronze

Flowers & Orchids of Barbados

1988

Rum Barrels & Cane Bills etc

1989

Coconut & Plaited Leaves Frontage

1990

Baskets & Large Heliconias

1991

Grass Skirts

1992

Chattel House & Sir Gary Sobers

1993

Bajan Rum Shop

1994

The Old Mill

1995

Sun, Sea & Sand

Many Happy Returns

1997

Cricket, Lovely Cricket

1998

Reef Garden

1999

Bajan Flower Market

2000

Tropical Spectacular

2001

Tropical Sunset Garden

2002

Old Plantation Yard

2003

Flower & Fibre of Barbados

2004

Moonlight 13° North - Barbados

2005

"Go Barbados"

2006

A Touch of Magic

2007

"This is Barbados - Where else?"

2008

"Beautiful Barbados"

2009

Sugar Factory Ruins Reclaimed

2010

Into the Light

2011

Summer Holiday

2012

Celebrating Unesco World Heritage
- Bridgetown and its Garrison.

2013

Sailor's Valentine

2014

Gully Adventure

2015

This Place Barbados

2016
Where we Live
2017
Associated Links:
The Royal Chelsea Flower Show
The Royal Horticultural Society
Barbados Horticultural Society (BHS) Presidents:

| | |
| --- | --- |
| 1927 - 1951 | Mr H N Leacock (one of the founders) |
| 1952 | Mr Harold Connell |
| 1953 - 1961 | Mr H Blair Bannister |
| 1962 | Mr H Connell |
| 1963 - 1965 | Mr H Blair Bannister |
| 1966 - 1968 | Mr Anthony Hunte |
| 1969 - 1971 | Mrs Iris Bannochie |
| 1972 | Mr Fred Coulter |
| 1973 | Mr W Wiles |
| 1974 - 1978 | Mr Christopher Leacock |
| 1979 - 1980 | Mr Girwood Springer |
| 1981 - 1983 | Mrs Audrey Thomas |
| 1984 - 1985 | Mrs Margaret Reid |
| 1986 - 1989 | Mrs Jean Robinson |
| 1990 - 1992 | Mr Victor Roach |
| 1993 - 1996 | Mrs Jean Robinson |
| 1997 - 2006 | Mr Victor Roach |
| 2006 - 2012 | Mrs Jennifer Weetch |
| 2013 - | Mr Orson Daisley |
| 2017 - | Mrs Jennifer Weetch |