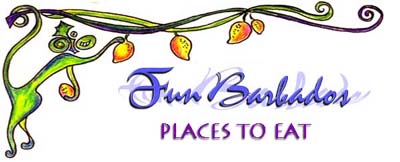 More About....
American | Asian | European | Mexican | Middle Eastern | Polynesian | Fusion
International Restaurants in Barbados
---

arbados is home to many fine dining and international restaurants. On this island described by some as a culinary treasure, you will find the cuisine of the world.
Exotic Middle- Eastern and Asian restaurants, classic Italian cuisine, spicy Mexican, elegant French and not forgetting tasty American food, are just some of the flavours you can savour in Barbados international restaurants.
Contemporary menus where traditional recipes are fused with local flavours, creating an enticing dining experience, are prepared and served in the ambience of your choice.
Barbados is renowned as a dining destination and we invite you to discover and savour the diverse cuisine available on the island.
Fun Barbados Home Page
Copyright © 1998 - 2013 Funbarbados Inc., All Rights Reserved.
Home - Contact Us