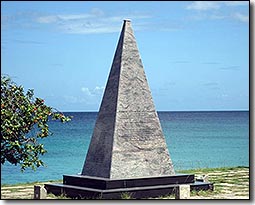 he Cubana Monument was erected in 1998 at Payne?s Bay, St James in memory of the 73 passengers who perished on October 6th 1976 on board the bombed Air Cubana Flight CU 455. It was designed by Virgil Broodhagen, the son of the talented Karl Broodhagen.
Cuban President Fidel Castro, the Ambassador to Guyana of the Democratic People?s Republic of Korea and Guyanese Government Minister Reepu Daman Persaud were all present at the unveiling of the monument.
This tragic anti-Castro terrorist attack happened 5 miles off the west coast and just 8 minutes after the plane took off from the Grantley Adams International Airport in Barbados on route to Jamaica and then to Havana, Cuba. The flight originally left Guyana, then Trinidad & Tobago before entering Barbados.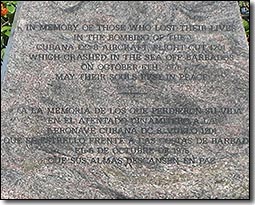 On board Air Cubana Flight CU 455 were 57 Cuban nationals (Cuba?s gold medal fencing team), 11 Guyanese nationals (Scholarship students on the way to Havana for medical university) and 5 citizens of the Democratic People?s Republic of Korea. The captain of the plane was Wilfredo Perez.
Four Venezuelan men were arrested in connection with the bombing: Ricardo Lozano and Freddie Lugo were arrested after confessing to performing the terrorist act by placing two bombs on the plane by orders of Orlando Bosch and Luis Posada Carriles, two US-backed anti-Castro Cuban exiles. Both were sentenced to 20-year prison terms. Orlando Bosch was acquitted and now lives in Miami, Florida and Luis Posada Carriles escaped from prison and eventually fled to the United States, where he is currently being held on charges of entering the country illegally as of December 2005.