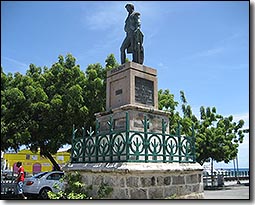 he
statue of Admiral Lord Nelson in Barbados
was erected in
historic city Bridgetown the capital
on March 22nd 1813 and sculpted from bronze by Sir Richard Westmacott, who was called, "the first castor of bronze in the Kingdom." It is considered an excellent likeness of the British Admiral.
It pre-dates the Nelson Column in Trafalgar Square in London by nearly 30 years. Very soon after his victory and subsequent death at Cape Trafalgar in 1805, plans were made to honour Horatio Nelson?s memory. Locals proudly believed they were the first to put up such a monument; however they were in fact the third, after Montreal and Birmingham.
His popularity came because Barbadians were very grateful and relieved not to become a French West Indian Colony, which would have been the alternative if Admiral Horatio Nelson did not gain victory for the British off Cape Trafalgar on the southern coast of Spain. This battle was the most decisive naval victory of the wars, ensuring British naval supremacy during the rest of the Napoleon Wars. It was also important for trade from Britain to the island.
The Battle of Trafalgar was fought on October 21st 1805, and was considered the most famous naval battle in history, and was where the Royal Navy led by Admiral Nelson devastated Napoleon's combined Spanish and French fleet.
To show appreciation, a memorial service was held on January 5th 1806 at the St Michael's Parish Church (now St Michael's Cathedral), and within days Barbadians were raising funds for a memorial statue. They then purchased the statue and land, naming it Trafalgar Square and paying tribute to the Admiral by erecting the statue.
For many years after, wreaths were laid at the statue on the anniversary of the Battle of Trafalgar.

For some time now the Nelson Statue has been at the centre of controversy for its removal, because it was said that he did not like Barbados. The only changes to date have been the ceasing of the traditional wreath laying on the anniversary of Trafalgar and the change of direction in which he faced.

FYI
Admiral Nelson's last visit to Barbados was June 4th 1805 while looking for the enemy.
Barbadians received the news of Admiral Nelson's great victory on December 20th 1805.

Other Places of Interest & Historic Sites nearby include:
This Admiral Lord Nelson Statue is now part of Historic Bridgetown & its Garrison area
…A UNESCO World Heritage Site
Click here for Tours of the Bridgetown Historic Area…