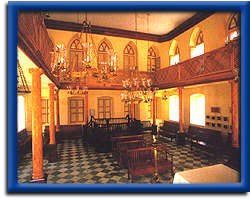 he
BARBADOS SYNAGOGUE
is located in the island's capital
BRIDGETOWN,
and
was originally built and completed in 1651, making it the first synagogue in the Western Hemisphere. It was destroyed by a hurricane in 1836 at which time the Synagogue was dismantled and some of its treasures exhibited at the Barbados Museum.
Two of its five cemeteries have disappeared and the Chandeliers sold. The present building was built on the old foundation and was re-opened in 1833.
Because of isolation and ostracization migration came into effect and by 1929 there was only one practicing Jew in Barbados. The building was then sold and converted into offices by the early 1980s.
The Bridgetown Synagogue
Once left derelict, this beautifully restored place of worship dates back to 1654. Built by the Jews who came here from Brazil to pass on their expertise in the sugar industry, the synagogue is now in use once again by the Jewish community in Barbados. It is a proud winner of the American Express Preservation Award.
The building restored by the local Jewish community with the support of the Barbados National Trust, the Caribbean Conservation Association and the Barbados Government.
It has returned to a Synagogue. The oldest grave in the remaining cemetery dates back to 1660.
While here you can check out the
Montefiore Fountain
, this was donated to the city of Bridgetown by a member of the Jewish community. It is located not far from the Synagogue.
The Bridgetown Nidhe Israel Synagogue and Museum in Barbados is open to the public.

Open:
Monday to Friday: 9am - 12 noon and 1pm - 4pm
Admission:
Adults - US $12.50 / BDS $25.00
Children - US $6.00 / BDS $12.00 (Kids under 5 years are free)
More Barbados National Trust Properties, Activities & Events....