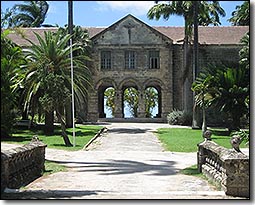 ocated on the perfect hill-top overlooking the magnificent Atlantic, Codrington College boasts breathtaking views of the East Coast of Barbados. The tranquil surroundings include a driveway lined with cabbage palm trees and a beautiful lily pond.
It is the oldest Anglican theological college in the Western Hemisphere and a most important feature of the historical, architectural, natural and educational heritage of Barbados.
The founder Christopher Codrington, a planter, was born in Barbados in 1668 and died in 1710, on Good Friday, in the original mansion. In his will he had left to the Society for the Propogation of the Gospel, two estates and considerable money for the setting up of an institution of higher learning. One of the purposes of the bequest was that there should be maintained a number of professors who should be obliged to teach medicine, surgery, and divinity.

The mansion house dates back to the mid seventeenth century, but the college buildings were completed in 1743 and opened in 1745 as a grammar school. In 1830 the college became a university level institution.
Many West Indian priests were trained at Codrington and the College continues to play an active part in education and theological teachings. It is now the theological college of the Anglican Church in the province of the West Indies and is affiliated to th
e University of the West Indies.