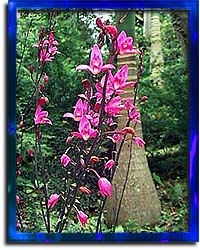 he
FLOWER FOREST BOTANICAL GARDENS in Barbados
is located centrally in the heart of St Joseph. This 53 acre attraction offers an explosion 7 acre of wild gardens and greenery with commanding vistas of the island's stunning Scotland District 750 ft above sea level.
The owners aptly consider this attraction "a cross between a botanical garden and a nature trail", since you can take an hour or a day to leisurely stroll the Forests winding paths, while eyeing a virtual wonderland of tropical flora. The paths are all amusingly named, and while you will never get lost, you might get confused as there are several short and long cuts coming off the main paths. Not to worry, as there is no time limit and no fixed way to travel through this forestland.
Welcome to our Garden
Filled with Peace & Tranquility…
The Flower Forest offer panoramic views of Chalky Mount and the East Coast. - For scenic views Click here…
Flowers are in bloom year round – For Photo Gallery Click here…
At Flower Forest Botanical Gardens you can also relax in the Café while enjoying lunch and teas.
Barbados Flower Forest Botanical Gardens
OPEN DAILY: 8am – 4pm (closed Christmas Day & Good Friday)
ADMISSION: BDS $25.00 / US $12.50 (Children under 13 years are half price)

Guided tours available to groups at an additional cost for guide (advance bookings required for groups)
Handicap accessibility
- Pavilion & bathroom are accessible
- There are no steps on the two main paths
- Pathways are smooth, but some areas may require assistance with wheelchairs to ascend and descend gradients.