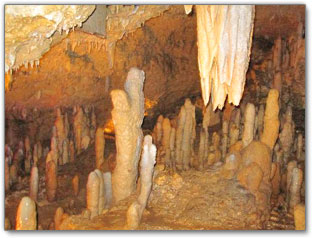 he spectacular
HARRISON'S CAVE in Barbados
is geographically located in the centre of the island, a natural phenomenon unique to the tropical world. Specially designed transport takes you down through the underground tunnels to a sight so beautiful, that few can compare.
In the specially lighted caverns at Harrison's Cave, view the majestic stalactites and stalagmites which have been growing from the floors and ceilings for many centuries. Cascading through the caves, the crystal blue waters form magnificent pools and waterfalls, filling the senses with sights and sounds of such pure wonder, that it is guaranteed to be the experience of a lifetime.
...More about Harrison's Cave
Wheelchair Friendly/Accesssible
Come Explore Harrison's Cave ...one of Barbados' Greatest Wonders!
HARRISON'S CAVE TOURSOpening Hours:
Daily: 9am - 4:30pm (
Tour schedule between 8:45am to 3:45pm
)
Harrison's Cave Tram Tour

-
1HR -
Rates...
DAILY - between 8:45 am to 3:45 pm
Located in the central uplands of Barbados, is a magnificent attraction with a world class attraction, with unmatched beauty. Harrison's Cave is a massive underground cave stream system, with awesome caverns and breath-taking formations. Enjoy an unparalleled underground experience as you journey aboard a tram, past clear streams and cascading waterfalls. BOOK...

Harrison's Cave Eco-Adventure Tour - 4HRS (16 years and over) - Rates...
DAILY - 9am and 12 noon

Harrison's Cave Barbados welcomes visitors to explore our world for the ultimate eco-adventure tour experience. Trek along our nature trails abundant tropical flora, catch a glimpse of native birds and maybe even a green monkey; as they traverse this rich habitat. Check your head lamps and knee guards as you explore some of the cave's natural passages as only the early explorers did to see breath taking crystallized formations. BOOK...

Harrison's Cave Walk-In Cave Tour - 1 1/2 HRS - Rates...
Every SATURDAY - 4pm and 4:30pm

Experience Harrison's Cave on foot and get close up with its amazing speleothems.

Our Adventure Tour Interpreters will guide visitors on this unique journey into Harrison's Cave. Visitors will enter Harrison's Cave on foot and travel along the tour path to get a closer look at the breathtaking cave formations. BOOK...


Check Out Other Harrison's Cave Special Events & Activities...

NOTE:
Harrison's Cave is closed to the public on Good Friday, Easter Sunday, 1st Monday in August (Kadooment Day) and Christmas day only.

View Photos...
Advance Bookings Preferred
BOOK Here Online Today and secure your space!