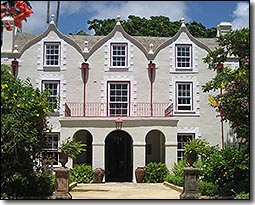 his grand old home called
ST NICHOLAS ABBEY in Barbados
, built in the mid 1650s, is one of the few Jacobean style houses left in the Western Hemisphere and one of the oldest buildings on the island. This elegant home was also a working sugar plantation during the days of slavery and many of its working buildings remain.
St Nicholas Abbey is situated in the parish of St. Peter on the north of the island, and is furnished much as it was 300 years ago with impressive late 18th century and early 19th century antiques. The house still retains many interesting architectural features such as the curved dutch gables, ceder paneling, coral stone finials, corner chimneys as well as a Chinese Chippendale staircase. This property is a prime example of the 'landed gentry' lifestyle of that era.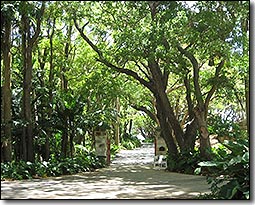 It is believed that the home was built by Colonel Benjamin Berringer, a wealthy planter and member of an aristocratic family. John (later Sir John) Yeamans was neighbour, friend and business partner to Yeamans. However his attentiveness to Mrs. Berringer and the rumoured affair they were having, caused a feud between Yeamans and Colonel Berringer, which ended in a duel and the subsequent death of Berringer. Soon after Sir John married Mrs. Berringer and claimed the Abbey but a court ruling later returned the property to Berringer's children and the property was named after Berringer's grand-daughter who married George Nicholas.
There is a guided tour of the house but only the ground floor is open to the public. Of particular interest is the remarkable 20 minute film taken in 1934 which lay forgotten in a drawer for 45 years. It shows the sugar plantation, windmills turning and streets scenes of Bridgetown.

ST NICHOLAS ABBEY TOUR
While we suggest a minimum of 1 hour for your visit, ideally guests will spend approximately 30 minutes in the great house and approximately 1-2 hours touring the grounds (gullies and gardens), rum distillery, home movie (c.1935) and museum. Cherry Tree Hill offers a breathtaking view of the island's East Coast. We recommend starting your tour no later than 3pm.
The Terrace Café serves lunch, tea and other light refreshments during opening hours.
Admission: BDS $40.00/ US $20.00 adults (Children BDS $20.00/ US $10.00

Guided tours, subject to availability, are provided at no extra fee. Please enquire with the guides at the entrance to the great house.

Open Sunday to Friday: 10am - 3:30pm
(Closed on Saturdays)