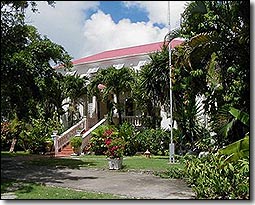 elcome to The SUNBURY PLANTATION HOUSE in Barbados!
This carefully restored grand old 'great house' is more than 300 years old and overflowing with history. It is the only one of the many great houses in Barbados with all rooms open for public viewing, and is a perfect representation of an early Barbados Sugar Estate Great House.
Sunbury House features a collection of mahogany antiques, old prints, china, glassware and silver as well as a unique collection of antique horse-drawn carriages. This superbly furnished historic museum brings to life the 1600s - 1800s with true impressions of what life was like on a Sugar Plantation or Estate in Barbados during that era.
Sunbury Plantation is set in the heart of the tranquil countryside with its beautifully landscape gardens and surroundings. On the grounds of this well-maintained estate you will also find authentic old carts and machinery used in Barbados for cultivating during earlier times. Take a Sunbury Plantation House Tour...
The History of Sunbury Great House and Plantation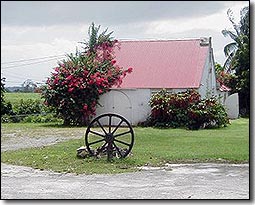 Sunbury Plantation House was built around 1660 by Matthew Chapman an Irish/English planter, who was one of the early settlers on the island. Matthew was also related to the Earl of Carlisle who granted him the land. As seen on the first map of Barbados in 1638, Sunbury Plantation was first called Chapman's Plantation. It also had a Cattle Mill which was noted on the 1674 Richard Ford's map of Barbados.
After 1693 the property was renamed Branker's Plantation after the second owner Nathaniel Branker until 1763 when it was sold to James Butler Harris. It was during Harris' ownership that the bell in the Bell House was erected. To this day it stands with the name "James Butler Harris 1766."
After Harris died two brothers, John and George Barrow purchased the estate. They lived there from 1775 until 1835. For a while it was nicknamed "Brothers Plantation" but was subsequently changed to "Sunbury" the name of their home in Kent, England. John Henry Barrow planted the first Teak tree at Sunbury in 1799. He also planted a grove of 300 mahogany trees, the first to be introduced to the island. Over one third of these trees remain today.
Sunbury was later inherited by the son of John Barrow, Colonel Johan Barrow; he was in charge of the 1816 slave rebellion which cost the plantation almost 4,000 pounds in damage. In 1835, when the Hon. John Barrow migrated to Newfoundland, the brothers Thomas and John Daniel purchased the estate out of the Court of Chancery for 33,000 pounds after the abolition of slavery. The Daniels were absentee proprietors who owned many plantations on the island as well as a fleet of ships for transporting their sugar.
During 1896 Scotsman Alistair Cameron purchased the estate. After the death of Alistair's two daughters in 1980 and 1981 and with no offspring left, Sunbury House was eventually separated from the estate and sold to Keith Melville and wife Angela. The rest of the property was sold to Geoffrey Armstrong the estate manager.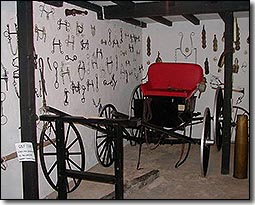 The Melvilles both of whom were keen horse lovers started their horse drawn collection many years ago, eventually becoming the most comprehensive collection of antique carriages in the Caribbean. They also preserved the heritage of the house with their impeccable choice of antique furnishings and fixtures.
Sunbury Heritage House has survived many hurricanes boasting walls of 2 - 6ft thickness. The diaries of William Senhouse describe Sunbury as "one of the best built plantations in Barbados". The sash windows are protected by jalousies on the outside and storm shutters on the inside.
Past Owners
1660 - 1693

Matthew Chapman (sold after his death)

1693 - 1763

Nathaniel Branker

1763 - 1775

James Butler Harris & wife Elizabeth (granddaughter of Matthew Chapman)
(sold after his death)

1775 - 1835

John Henry Barrow and George Barrow
(sold after John migrated to Newfoundland)

1835 - 1896

Thomas Daniel and John Daniel

1896 - 1981

Alistair Cameron
(After the death of his two daughters in 1980 and 1981)

1981 - Present

Keith Melville and his wife
During January of 1984, after many decades and owners Sunbury House was opened to the public as a museum.
On July 24th 1995, a disastrous fire occurred which led to the Sunbury's meticulous restoration and reopening in August of 1996. It is now lovingly cherished for posterity, and for the enjoyment of future generations and visitors. The grounds, gardens, courtyard and small wooded area are also open to the public.
Open Daily: 9am. - 5pm (last tour at 4:30pm)
Sunbury Offers:
Beautifully Landscape Gardens
The Courtyard Restaurant and Bar - Open Daily for Lunch & Dinner
Wedding Venue - Photo Gallery
Gift Shop
Click here for Sunbury Rates

BOOK HERE TODAY!!!