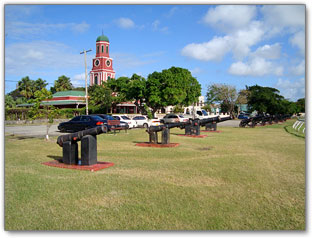 oin us for fun and informative
Guided Tours of The Barbados HISTORIC GARRISON AREA,
conducted by knowledgeable, multilingual guides, in a comfortable air-conditioned coach.

The Barbados Historic Garrison Tour
is an exciting excursion which allows you to travel back in time, in air-conditioned comfort, through Barbados' Historic Garrison,
now a UNESCO World Heritage Site
.
This magnificent site dates back to around 1650 and is home to what is thought to be the most intact, and authentic 18th and 19th century British Garrison complex in the world.
...Learn how the history of the Barbados Garrison was influenced by Cromwell, George Washington, and The American War of Independence!
...See where a young George Washington, in 1751, was exposed to British military strategy as he visited and inspected the nearby 'Charles Fort' (1650) and 'St. Ann's Fort' (1707).
...Learn how the Garrison, ultimately established in 1789, became the heart of the British defence of its valuable possessions in the Caribbean for more than 100 years.
More about the Garrison Historic area…
Heritage Tours of The Barbados Historic Garrison ...A UNESCO World Heritage Site
Buildings in this area were erected between 1780 and 1810


Barbados Garrison World Heritage Site Tours:
Enjoy the Military History of Barbados from 1640 to Today!
Guided HISTORIC GARRISON TOURS (BUS/COACH DRIVEN) will include: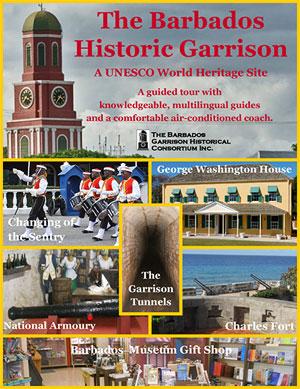 A visit to the famous George Washington House (c1720) where young George spent 6 weeks of life.

See and experience the re-discovered 'Garrison Tunnels' (c1820).

A visit to Charles Fort, built to protect Carlisle Bay; the harbor that received slaves from Africa and provided an exchange of precious local commodities, such as tobacco and sugar, for the materials required to develop this strategically located island.

A visit to The National Armoury Museum; a former Powder Magazine (c1800) which stored the gunpowder for the British fleet anchored in Carlisle Bay at the time and which now houses for the World's finest collection of 17th century English iron cannon.

A visit to the (still functioning) Officer's Mess at St. Ann's Fort for a drink (Fruit punch or Rum punch).

A short visit to the Barbados Museum (military prison 1818-1905) gift shop. (NO Longer part of this tour)

A stop-off at 'Changing of the Sentry' exercise (the Barbadian version of the Changing of the Guard at Bucking-ham Palace) at the Main Guard (1804). This exercise is carried out by 15 men in full ceremonial dress, wearing the uniform selected for the West India Regiment by Queen Victoria in 1858.

The Barbados Historic Garrison Guided Bus Tours are offered EVERY THURSDAY
(available from June until March of the following year)
TIME: 9am – 12:15pm (3HRs)
AIR-CONDITION COACH DRIVEN TOUR PACKAGES
BDS $110.00 / US $55.00
(Children – BDS $80.00 / US $40.00)
INCLUDES:
Guided Tour
(1) Drink
Roundtrip Transportation

(Advance Bookings Required)
BOOK NOW and Secure your space!
__________________________________

Guided GARRISON HISTORIC AREA WALKS (Walking Tours) includes visits to:

Flat trail with two minor inclinations, using mainly paved surfaces.
The Main Guard & Clock Tower
The Drill Hall/Old Barracks/St Ann's Fort/Barbados Defense Force facility
The Barbados Museum
George Washington House & Museum
Military Cemetery/Burial ground
Other highlights…
Walking distances & Duration: SHORT TOUR - 1 mile (1HR) or LONG TOUR - 3.5 miles (3HRS)
The Barbados Historic Garrison Guided Walking Tours are offered:
Monday – Saturday: 7am

WALKING TOUR RATES/PRICES
GROUP TOURS (ONLY) (10 persons & more)
BDS $34.00/ US$17.00 per person (Tour minimum - 10 persons)

(Advance Bookings Required)
BOOK NOW and Secure your space!
_______________________________


Historic Garrison Night Tour & Tunnel Experience (Walking Tour)
- approx. 2HRs (2.5Km)
A bit of a thriller, this tour focuses on the macabre side of life in the Garrison.
…Murders, executions, crimes and punishments!
The tour will explain in detail…
…The construction of the unfinished Garrison Fortress 1789 – 1793.
…How 'Graves End Beach' got its name.
You will also experience several short dramas en route including…
…A re-enactment of the execution by firing squad of a freed slave at the Military Cemetery.
…The unsolved John Hislop murder of 1809.
Guided walking Night Tours of the Historic Garrison area are offered:
EVERY FRIDAY at 6:45pm.
(gather at George Washington House Ticket Booth - 6:30pm)

Take advantage of this unique opportunity to experience the Garrison Tunnels by night
...read more about garrison tunnels

ADMISSION: BDS $30.00 / US $15.00 (BDS $20.00 / US $10.00 Child)
(Transportation additional cost)

Advance Bookings required
BOOK NOW and Secure your space!

What to Bring? (If possble)
- A torch to light your path
- Suitable shoes for walking on grass and sandy track
- An umbrella, in the event of showers
- A drink or even something light to eat to keep yourself hydrated
_______________________________

COMING SOON...
Tram Tours of the Historic Garrison Area
This will be a somewhat replica of the mule-driven tram that operated up to 1925 in Barbados.

Motor-driven trams will be driven around the Garrison Savannah, down to Bush Hill and then to the Hilton/Needhams Point, and return.

Click here for other interest near by or in the Historic Garrison area (Find Beaches, Accommodations, Restaurants & Bars, Entertainment & Nightlife closeby)
________________________________

Check out our World Heritage Site Tours of Bridgetown & Its Garrison…