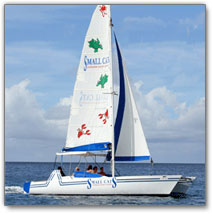 elcome to
SMALL CATS Catamaran Cruises in Barbados
, the best way to discover the Caribbean sea. Join us for a 3-hour snorkelling cruise, or on our 5-hour lunch cruise where a delicious bajan meal is served.
Small Cats Cruises specialises in smaller, more personalised cruises with the emphasis on intimacy. Unlike some of the larger, more commercial catamaran cruises on the island, our cozy 30-foot catamaran carries a maximum of 12 people, and has a comfortable open canopy area for those avoiding the sun, as well as ample deck space for sun bathers.
On Small Cats Catamaran Sailing Cruises, our boat takes you on a journey along the island's beautiful west coast, with stops to snorkel and swim with sea turtles, as well as a visit to the Carlisle Bay area where you get to snorkel and swim over coral reefs and an old shipwreck, seeing lots of colourful fish.
As you sail our friendly captain will point out the many hotels, restaurants and holiday homes of the rich and famous on the water's edge.
We provide drinks and snorkelling gear on all cruises, along with a free transportation service to and from the dock.
Small Cats Catamaran Sailing Cruises
BARBADOS
…your best choice for Snorkeling Cruises!

Small Cats 3HR SNORKELING CRUISE – 10am to 1pm DAILY - US $70.00
Snorkel…swim with the friendly sea turtles…swim over a Shipwreck…see many tropical fish
Perfect for families with small children, or for those people who want to squeeze other activities into their day.
INCLUDES:
Coastal Sailing Cruise aboard a 30ft catamaran
Breakfast beverages and special coconut bread
(2) Snorkeling stops
Snorkeling and safety gear
Unlimited drinks
Round-trip Transportation (for south and west coast accommodations)
For groups of 4 or more, an intimate 3HR SUNSET CRUISE is also available at 3:30pm
Advance Bookings Required - BOOK HERE!!!
A 30ft Catamaran carrying a maximum of 12 persons
___________________________________________

Small Cats 5HR LUNCH CRUISE: 10am to 3pm DAILY – US $88.00
Snorkel…swim with the friendly sea turtles…swim over a Shipwreck…enjoy a scrumptious Lunch
Sit back, relax, sway to the music and enjoy one last rum punch before returning.
INCLUDES:
Coastal Sailing Cruise aboard a 30ft catamaran
Breakfast beverages and special coconut bread
(2) Snorkeling stops
Snorkeling and safety gear
Unlimited drinks
Lunch on board
Round-trip Transportation (for south and west coast accommodations)
Advance Bookings Required - BOOK HERE!!!
A 30ft Catamaran carrying a maximum of 12 persons
___________________________________________

Private Charters


For an even more personal sailing and snorkeling adventure, let us take you on your own private cruise. We offer reasonable rates for families or couples who want a boat for themselves. You choose the setting whether it is a Lunch, Sunset or Snorkel Cruise. Come celebrate birthdays, anniversaries or any special occasion. If you are staying on the West Coast we can collect you on the beach in front of your hotel or guesthouse.




(Weather and sea conditions permitting)

EMAIL US for a quote


Advance Bookings Required

- BOOK HERE!!!
A 30ft Catamaran carrying a maximum of 12 persons

___________________________________________