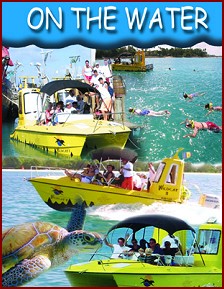 n the
Seafari WILDCAT Sea Turtle & Shipwreck POWER BOAT Adventures
in Barbados, you will discover the most hidden bays and best kept secrets of Barbados' West Coast …explore the underwater wonders of a tropical paradise… Partake in feeding a species of curious turtles.
Step aboard our sleek 24ft boat for an exhilarating ride to two fantastic snorkel sites. Enjoy this intimate experience as you are whisked away to Turtle Bay, the home of the endangered Hawkshill and Green turtles where you will get up close and personal with these gentle un-intrusive creatures. After a short safety briefing to ensure guests are familiar with basic underwater safety and snorkel techniques, you begin the ultimate snorkeling adventure complete with friendly and knowledgeable guides.
After snorkeling with the turtles, you will explore the hidden bays along the West Coast as your guide regales you with the local folklore and some fascinating historical information. Then you visit the South Coast where you will snorkel on the historic Berwyn Shipwreck in Carlisle Bay, now home to a great variety of tropical fish and other marine surprises. A final stop is made at one of Barbados' most beautiful beaches where you can swim or relax before returning.
Seafari Wildcat Barbados Powerboat Adventures
Barbados' most exciting Powerboat Adventure Sea Tour!!!

THE SEAFARI WILDCAT POWERBOAT - SNORKEL & ADVENTURE TOUR –
Duration:
5½HRS
Most exciting Speed Boat Sea Tour!
(

Saturdays ONLY

)
Includes:
Boat ride,
Turtle & Shipwreck snorkel stops
Beach stop
Refreshments
Light BBQ Lunch
Round trip transfers
Snorkel equpment
Beach chair & Shared umbrella

More info... / RATES...
____________________

THE SEAFARI WILDCAT POWERBOAT - "SPLASH & DASH" TURTLE FEED & SNORKEL –
Duration:
1 HR

Most exciting Speed Boat Sea Tour!
(

Mondays ONLY

)
(
Requires a minimum of (10) persons to Book
)
Includes:
Boat ride
Snorkel with Turtles
Snorkel at Marine Park
Snorkel equipment
Refreshments
Round trip transfers
Snorkel equipment

More info... / RATES...


Tour requires a minimum of 10 persons to operate

____________________________________

THE "SURF AND TURF ADVENTURE" - SHIPWRECK SNORKEL & JEEP TOUR –
Duration:
5½HRS

(

Saturdays ONLY

)
Includes:
Off-road 4x4 Jeep Tour
Tropical punch and diet sodas served along the way
Wildcat Power Boat Ride to Shipwreck site
Guided snorkel experience, mask, snorkel and snorkel vest
BBQ Lunch at Copacabana Beach Bar
Entrance Fee to Welchman Hall Gully
Roundtrip Transportation

More info... / RATES...
____________________


Capacity:
(16) seater
Note:

Guest should wear their swim suit under clothes, bring along a towel and dress in light practical clothing.
Guest who are pregnant, have back, neck or poor health should not participate.
Guest also needs to be able to swim unassisted.
_____________________________________________________________


CHARTER / RENT
Rent-A-Cat: Wildcat Speed Boat Rental
Charter your own Wildcat for you and your guests exclusively! –
Rates...



For Adventureland 4x4 Off-Road Jeep Tours -
Click here!

SEAFARI BARBADOS POWERBOAT ADVENTURES