he
KENSINGTON OVAL in Barbados
, once the grounds of a plantation house, has been known for its historic cricket matches and entertaining atmosphere, since its first match in 1882 when it was called Pickwick Cricket Club. The Oval saw the arrival of the first touring side in 1895 and its first test in 1930 against England. Despite all the changes to Kensington Oval to make it the best Cricket ground in the region, the memories of past great matches and spectacular performances by Cricketing Legends from all over will never be forgotten.
In June 2005 the historic Kensington Oval was demolished and transformed into an ultra modern stadium in preparation for ICC Cricket World Cup 2007. Some of the stands were kept in tribute, to be placed in a museum. It was officially re-opened on 17th February 2007. At the New Kensington Oval Stadium stands the
Sir Garfield Sobers Statue
near the entrance of the Sir Garfield Sobers Players' Pavilion, on the Pickwick Walk.
The newly redeveloped Kensington Oval is now known as the "Mecca" of Cricket in the Caribbean. Its grounds have grown from 7 acres to over 12.5 acres and its capacity from 14,500 to 27,000 spectators.
The playing field is 3 ½ acres and the outfield is made up of layers of stone, gravel, sand and hybrid Bermuda grass, with a modern rapid-drain drainage system and pitch irrigation. The Pitch is now fast and bouncy, hence favouring Batsmen.
The Cricket Pitch at Kensington Oval as well as the outfield received positive comments from International cricket officials, media, and cricketers.
Cricket is considered the national sport of Barbados and the West Indies. The energy of the Cricket Festivals and party atmosphere surround the sport, with bajans and visitors alike munching on local cuisine and being bowled over with hits of rum. Our local characters also add to the entertainment with their attire, music and comedy. One of the most popular characters is Mac Fingall an Entertainer and avid cricket fan, who along with his small band keep the many fans in the stands entertained. All this has no doubt made Barbados the favourite Cricketing Destination in the Caribbean by return visitors.
Entertaining cricket, music and culture, fun, sun and beautiful beaches... Barbados is the place to be.
Cricket and culture often make a good mix, and that is why "THE VILLAGE EXPERIENCE" a recent addition to Kensington Oval is the happening spot.

The Village Experience offers a Dining experience in cultural setting and features four Chattel Houses as the central component.

For more information on cricket activities in Barbados, check out our Events Calendar


KENSINGTON OVAL GUIDED TOURS
Tours are Monday to Friday (every 1/2 Hour) - (1st Tour at 9am) (Last Tour at 3:30pm)
Check-in at the secruity booth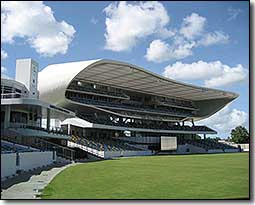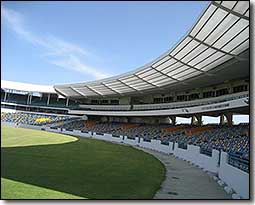 Kensington Oval Ultra-modern Stadium Venue:
- (6) Cricket Pitches
- (2) Partly covered temporary stands
- Sir Garfield Sobers Player's Pavillion (for (50) Players)
- (46) Suites
- (2) Club Terraces
- (6) Bars
- (18) Concessions
- Flood Lights


| | | |
| --- | --- | --- |
| Worrell Weekes Walcott Stand | | Greenidge & Haynes Stand |
| Lower & Upper levels | | Lower & upper level |
| (16) George Challenor Suites | | Kensington Club |
| President's Suite | | (16) Atkinson & Nurse Suites |
| | | |
| --- | --- | --- |
| Hall & Griffith Stand | | Hewitt & Inniss Stand |
| Lower & upper levels | | Lower & upper levels |
| (7) Emmanuel Martindale Suites | | (7) Conrad Hunte Suites |
| | | |
| The Coppin, Cozier and Short Media Centre | | Name of ends |
| (6) Commentary Booths | | Malcolm Marshall End |
| (85) Press Desk | | Joel Garner End |
| Press conference room seating (148) | | |

Places of Interest Close to and in the Kensington Oval Area: