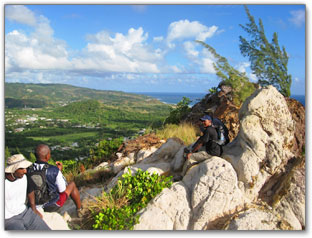 Hike Barbados 2018 Calendar
Barbados National Trust (BNT) Event

Come join the Barbados National Trust (BNT) "HIKE BARBADOS" fun walks every Sunday! Discover a side to Barbados most people don't get to see. Enjoy guided hikes to some of the most beautiful and otherwise inaccessible parts of the island.

Be part of the fun walks this weekend with the Barbados National Trust (BNT) Sunday Hikes.
Duration: 3 hours
Admission: FREE (Donations welcome)
(Help us preserve the island's built & natural environment)

Morning Hikes - Start 6am
Grades:
- 'Stop 'n Stare' (12 miles)
- 'Medium & Fast Medium' (9 miles)
- 'Grin 'n Bear' (12 miles)

Afternoon Hikes - Start 3:30pm
Repeats the mornings 'Stop 'n Stare' route

See full 2018 Hike Barbados Schedule, Dates, Locations and Directions...

BNT SPECIAL HIKES:
Hike Barbados Bank Holiday Hikes (Organised by a community of regular hikers specifically for Public Holidays)
Tips
- Wear strong comfortable footwear and a hat
- Bring a bottle of water and snacks if you wish
- A torch is needed for the moonlight hikes
- Refreshments are on sale after hikes

Collect your Hike Barbados Booklets inclusive of schedule, directions & map at:
Barbados National Trust
Wildey House, Wildey,St. Michael

For more information contact:
Tel: (246) 426-2421
Fax: (246) 429-9055
E-mail: natrust@caribsurf.com or hikebarbados@gmail.com

See other Barbados National Trust Events.