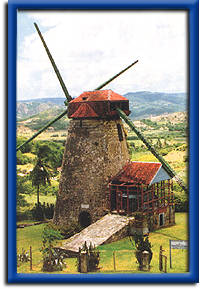 he
MORGAN LEWIS SUGAR WINDMILL
in Barbados is the largest and lone intact
wind-driven sugar mill
in the Caribbean, and is now among the World Monuments Fund list of 100 Most Endangered Sites in the World.
After a massive restoration effort on the part of the Barbados National Trust, the Morgan Lewis Mill is still a typical example of the island's two century tradition of wind-powered cane grinding. Used for grinding cane throughout the 18th and 19th centuries, This Dutch-influence mill is perhaps the only one where you can still see the fully intact wheel house and sails.
Typical of the wind-driven mills of the 17th, 18th and 19th centuries, it helped produce the sugar for which Barbados used to be famous throughout the world. Housed inside the mill is a dynamic exhibit/display of old photographs documenting the sugar glory days.
A
lthough the old plantation house has seen better days it is still worth a visit! The rubble walls are comprised of boulders held together with a mixture of egg-white and coral dust (there was no cement when this plantation house was built!).


The Morgan Lewis Sugar Mill is located on a scenic mount in the beautiful
north east of the island, commanding panoramic views down to the stunning east coast. Located near the Wildlife Reserve and Bathsheba, it is also a welcome refreshment stop, selling ice creams and cool drinks.
Persons can visit the property
Monday - Sunday

Open for Demonstrations Monday to Friday:
9am - 5pm
(
Entrance only allowed with grinding session during crop season
)
Admission:
$10.00
Cane grinding demonstrations December to April. Get to taste the delicious cane juice produced.

More Barbados National Trust Properties, Activities & Events....