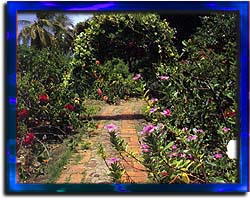 he
ANDROMEDA BOTANICAL GARDENS
in Barbados is nestled on a cliff overlooking the east coast, and is today run by the Barbados National Trust. With over 600 species of plants, this property host the largest collection of tropical plants in the Easter Caribbean.
Spread over six acres of carefully landscaped grounds that are lavishly coloured with blooms, orchids, exotics and shrubs, this garden represents what is arguably one of the finest collections in the region.
Andromeda Gardens was developed in 1954 by the late horticulturist Iris Bannochie for her weekend retreat. It soon mushroomed into a full fledged garden and eventually she opened it to the public. As she expanded the gardens and acquired more exotic plants and blooms from around the world, Andromeda became a major visitor attraction. She left the property to the people of Barbados, to be managed by the National Trust in 1988.
Iris Bannochie was devoted to horticultural training and a wide range of horticultural courses including design workshops and practical horticulture programmes are all available at Andromeda Botanic Gardens. This is a positive movement and Andromeda Botanic Gardens has adopted a variety of eco-friendly practices. Only organic pest controls are used and green fertilizer is grown in the Gardens.
The property's windows to the coast, along with its undulating landscape make for a marvelous backdrop to the splashes of colours and varied displays of the gardens. The property is tastefully accented with ponds, streams, shady nooks and rocky ledges. The orchid collection is wonderfully vast and because of the tremendous variety, there is almost always something in bloom.
At the Andromeda Botanic Gardens there is a gift shop and café located by the entrance.

Open Daily: 9am - 4:30pm
Admission: BDS $20.00 / US $10.00 (Children 6 - 12 years: BDS $10.00 / US $5.00)

We also host weddings and other functions.

More Barbados National Trust Properties, Activities & Events....