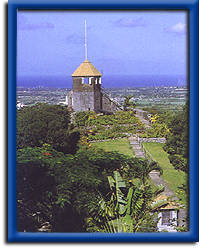 he
Gun Hill Signal Station
in Barbados was built in 1818, and is perched on a rural St George hilltop. The station arguably offers the best views of the island and houses a fascinating collection of military memorabilia.
This historic stop affords a stunning view of the south and east of the island. The strategically placed tower was the finest of a chain of six signal stations used island-wide by the British in the early 1800s, carrying news across the island to other stations using flags and lantern codes - cries such as enemy ships approaching, or fire in the cane-fields.

The army of the British Garrison on the island used this area as a rest camp for soldiers to recover after the many illnesses that were contracted during the early nineteenth century.
Below the station is the famous lion, carved from coral-stone in 1868 by Captain Henry Wilkinson who was assisted by four military labourers.
Gun Hill Signal Station is now under the stewardship of the Barbados National Trust after being restored from ruins by the Trust in 1983.


Take a Tour of the Gun Hill Signal Station
Open: Monday to Saturday from 9am - 5pm
Admission: BDS $10.00 / US $5.00 (Children under 12 years are half price)


More Barbados National Trust Properties, Activities & Events....