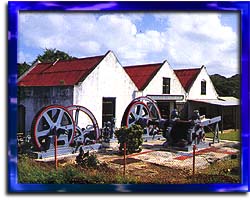 t the
SIR FRANK HUTSON SUGAR MUSEUM & FACTORY
in Barbados you will discover the history of the sweetest product in the world! An intrinsic part of Barbadian history, producing sweets, sugar, molasses and of course rum, the story of sugar will spring to life before your eyes.
The Sir Frank Hutson Museum which is located in the yard of the
Portvale Sugar Factory
, houses a fine collection of original machinery, inside a converted sugar boiling house, and at the end of the tour, you can sample fine sugar delicacies.
During the grinding season (February to May) you can also take a tour of Portvale Factory, the modern sugar factory, and compare the machinery used today to process sugar to that of yesteryear.
Open: Monday to Saturday from 9am - 5pm
Admission: $15.00 for sugar museum and factory tour; $8.00 museum only; children half price

More Barbados National Trust Properties, Activities & Events....