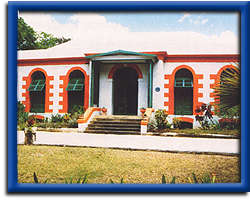 he
TYROL COT HERITAGE VILLAGE
in Barbados
was the home of one of the founding fathers of Barbadian democracy, Sir Grantley Adams, and his son, second Prime Minister of Barbados, the late J.M.G.M. "Tom" Adams. The house is a monument to a vital period in the island's history, as well as containing Sir Grantley's personal effects - such as his old radio and car licence plate - and a fine collection of antique furniture.
The Chattel House Village on the four acres of grounds is a faithful replica of how a 1920s Barbadian village would have looked like, complete with a chattel house museum, blacksmith's forge, rum shop and artisan's craft shops. Some of the most unique arts and crafts are handmade on site here - they make perfect presents and souvenirs! The village also houses a model slave hut and the recently-opened Stables Restaurant, which serves Bajan delights every weekday lunch time.
Open: Monday to Friday, 8am to 4pm
Admission: $11.50 for adults; children half price

More Barbados National Trust Properties, Activities & Events....