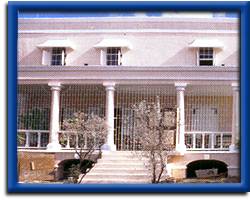 he
Headquarters of the Barbados National Trust
is now
WILDEY HOUSE
, a beautiful old Georgian Great House set in five acres of grounds and woods which underwent extensive renovation between 1995 and 1997. The house and its contents were bequeathed to the Trust by Edna Leacock, and her beautiful mahogany furniture has also been lovingly restored by John Chandler.
Elegant furniture and family memorabilia
Visit us and ask for a tour of the main public rooms, which have been left in their original style in memory of her son Christopher. You will have the chance to see fine collections of Victorian china, crystal and books - all restored - as well as many fascinating images of bygone Barbados. There is also some fascinating family memorabilia, a key to an old way of life.
We also host weddings and functions, and can be booked for events great and small - from an intimate dinner party in the dining room to a gala reception on the grounds!

Open: Monday to Friday from 8:30am - 4:30pm


More Barbados National Trust Properties, Activities & Events....