Barbados Motorsports
---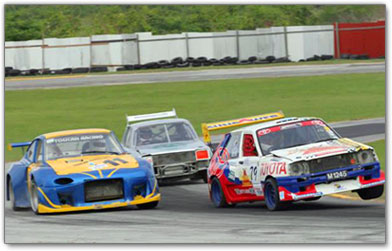 In Barbados, Motorsports in all its forms is among the most popular sports/sporting events in the island, with a unique atmosphere you will not experience anywhere else in the Caribbean... or the rest of the world.
Motorsports in Barbados boast highly-skilled drivers, quality machinery and a large following for every discipline. In a sporting calendar lasting from February to November, competitions include circuit racing for cars and karts, special stage rallies, speed events, dexterity tests, drag racing, RallySprints and navigational rallies. Rallies and speed events are usually held on public roads, closed to traffic for the period and controlled by marshals.
Barbados has two enclosed RACE TRACKS:
Bushy Park in St Philip is a tarmac track built for circuit racing in 1971, which is used for car racing, ATV racing, Motorcycle/Bike racing, kart racing and drag racing.
Developed since 2000, Vaucluse Raceway in St Thomas was the home of RallySprints; although currently closed for motor sport, it is still used for other community events.
Click here for more information on racing venues and their events...
INTERNATIONAL MOTORSPORT EVENTS IN BARBADOS:
Organised by the Barbados Rally Club, Sol Rally Barbados is the region's biggest annual motor sport international. As many as 100 crews take part, including around 40 from overseas - in recent years, they have come from as far afield as Australia, South Africa, the United Kingdom and the United States. More about Sol Rally Barbados...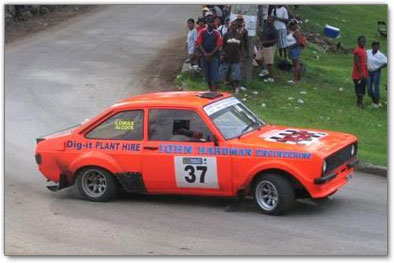 The Digicel Williams International Race Meet at Bushy Park is a round of the annual Seaboard Marine Caribbean Motor Racing Championship. Organized by Bushy Park Motor Sports Inc. (BPMSI), it attracts competitors from the other host countries, Guyana and Jamaica, as well as from other territories around the region. In addition to car races, this meeting features Superbikes, rarely seen in action in Barbados. More about Digicel Williams International Race Meet/Caribbean Motor Racing Championship...

The Barbados Historic Rally Carnival was first staged in 2010, the change in emphasis to historic rally cars marking the 10th Anniversary of the original Carnival. Organised by the Vaucluse Raceway Motorsport Club, it combines a one-day RallySprint and a tarmac special stage rally. More about Barbados Historic Rally Carnival...

OTHER POPULAR BARBADOS MOTORSPORTS EVENTS:
Twisted Drag Warz is the title given to the Barbados Association of Dragsters and Drifters' annual Championship, which has run since 2010. It is a series of five showdowns between the best dragsters on the island, held on a one-eighth of a mile strip at Bushy Park. In time, the organisers hope to secure a quarter-mile strip. More about Twisted Drag Wars...

Off-road four-wheel-drive (4x4) events have become increasingly popular, a Championship of five Safaris co-ordinated by the MudDogs 4x4 Motor Sport, an offshoot of the Barbados Rally Club. These navigational events rely heavily on the combined skills of driver and navigator, while two annual MudFests are designed more to test the driver. More about MudFest...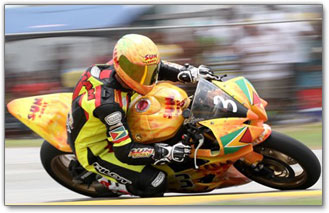 With the steady growth of circuit racing and stage rallying over the past 10 years, Motorsport has become a major contributor to the island's sports-tourism product. Visiting drivers enjoy the Bajan hospitality and friendliness, the camaraderie among competitors and our beautiful tropical countryside. So come on over and enjoy some exciting Motorsports while vacationing on our gorgeous beaches, and taking in lovely sunshine and beautiful sights.
Barbados Auto Racing/Motorsports Season calendar: Usually February - November
BARBADOS MOTORSPORT CLUBS & ORGANISATIONS:
BARBADOS CIRCUIT RACING VENUES:
Bushy Park Racing Circuit & Motorsport Facility - Click here for Bushy Park Events...
Location: St. Philip
Built: 1971 (originally for circuit racing)
Redeveloped: 2014 (Reopens May 2014)
Surface: Tarmac
Type of Events: Car racing, Kart racing, Drag racing, and more...
Size: 65-acre site (Length - 2.02kms / Width 12 metres)
Vaucluse Raceway (currently closed for motor sport) - Click here for Vaucluse Raceway Events...
Location: St. Thomas
Built: 2000 (temporary race course)
Track Surface: Tarmac
Type of Events: RallySprints
Size:
CAR SHOWS/MOTORSPORT/MOTORING EVENTS IN BARBADOS:
Click here for Full Calendar of Motorsports Events in Barbados...
For further information on specific Motorsport activities and other Motoring events in Barbados, check out our Events Calendar.
BARBADOS MOTORSPORT VIDEOS, PHOTOS & NEWS (Motor/Auto Racing & Stunts)
www.barbadosmotorsport.com
www.justbajan.com/cars/motorsports
Useful links for MOTOR SPORTS HOLIDAYS & VACATIONS in Barbados
Book your Daily Activities On-line