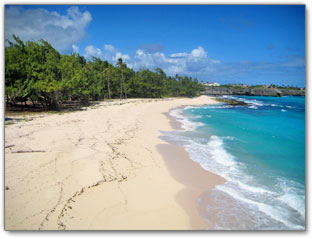 he sprawling
Long Bay beach
area consists of three individual bays, all stunning and separated by sea-cliffs.
Two out of the three bays fronts the historic
Sam Lord's Castle Hotel Resort
, once the home of Sam Lord the notorious pirate who wrecked ships visiting the shores of the southeastern coast. The property has been closed for some time and has since been destroyed by fire.
These two bays are also known as
Sam Lord's Castle Beach
or
Sam Lord's Beach
, both featuring unstable sea conditions with large waves, strong currents and lots of undertow. However there are some natural pools close to shore.
Long Bay Beach is secluded, deserted and very isolated, and is better suited for group outings. It is also a great picnic spot, but requires travelling down and up long flights of stairs.
Whether you are entering the bay via the stairs at the Sam Lord's Castle, or from the stairs next to the property, you will find yourself on a derelict bay with gorgeous white/pinkish sand, crystal clear waters, and a backdrop of coconut trees with overgrown vegetation surrounded by cliffs.
On the shore there are lots of drift wood, some fishing boats, a shanty, and abandoned structures suitable for outings. This bay was also once the venue for many beach parties and barbeques held by the hotel.
Located adjacently at the northern end is the second bay fronting the property, this bay is separated by a sea-cliff with stairs going up from one beach and down to the next. This bay is just as beautiful as the first with similar features.
At the southern end is
Shark's Hole Bay
, the third cove located in the long Bay area. It is separated by a Villa Estate on the cliff-top, and is situated on the other side of that property.
Long Bay Beach can be found on the Atlantic Ocean side of the island, on the
Southeast Coast
of Barbados in the parish of St Philip.
CAUTION! Not well-suited for swimming
(some sea-bathing close to shore)
Public Access to beach
Pedestrian access (access to beach requires travelling down a long flight of stairs)

Crowd during the week:
Empty

Crowd on weekends:
Empty



Other Southeast Coast Beaches close by

To the north are
Harrismith Beach
and
Bottom Bay
To the south are
Shark's Hole Bay
,
Beachy Head Bay
,
Ginger Bay
and
Crane Beach
More Southeast Coast Beaches in Barbados...
Hire a Car and visit some of the other attractions and Nightlife around the island, or explore the rest of Barbados on a guided island tour.


Note: Seasonal weather can cause a change in conditions
_____________________________________________________________

BEACH ACTIVITIES & WATERSPORTS:
Surfing / Fishing / Walking / Sun Tanning
Watersports in Barbados

AMENITIES
| | | | | | | |
| --- | --- | --- | --- | --- | --- | --- |
| Lifeguard | Facilities | Beach Rentals | Vendors | Benches | Play Park | Parking |
| N/A | N/A | N/A | N/A | N/A | N/A | Yes |
Facilities usually includes: Showers / Toilets / Changing areas


| | | | | | |
| --- | --- | --- | --- | --- | --- |
| Wheelchair Access | Phone Booth | Rangers | Picnic Tables | Hair Braiding | Shaded Areas |
| N/A | N/A | N/A | N/A | N/A | Yes |
____________________________________________________