Activities: Sports: Equestrian
Equestrian | Horseback Riding | Polo | Horse Racing
Stables | Show Coordinators | Events
Equestrian Sports in Barbados
---
DRESSAGE, SHOW JUMPING
Equestrianism: The skill of riding or driving horses.
Dressage: Competitive horse training, where horses smoothly respond to a skilled rider's commands.
Show Jumping: A member of English riding equestrian events that also includes dressage, eventing, hunters and equitation.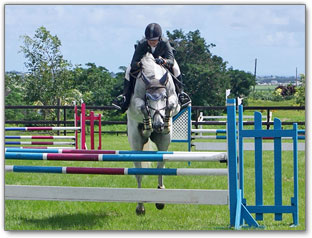 Although Equestrian Sports in Barbados may not be one of the major sporting activities, the commitment from those who are involved is commendable. When we speak of Equestrian on the island, the Congo Road Equestrian Centre comes to mind, this is where most of our Dressage is centered.
In Barbados, Equestrian sports had a bit of a slow start in the 1960's; this was when the Barbados Show Jumping Federation (BSF) was formed. This Equestrian Association was spearheaded by the Honorable Janet Kidd, daughter of Lord Beaverbrook. After a short existence the BSF soon dissolved due to a lapse of activity.

The 1970's initiated the formation of the Barbados Equestrian Association (BEA) with its first President, Sir Denys Williams. Local and regional competitions were held, supported by major sponsors such as Marlborough. The BEA focuses on Show Jumping in Barbados and has reached heights of International standards.

Dressage in Barbados was officially amalgamated into the Federation in 1992 spearheaded by its first chairperson Elisabeth Roachford also known as the 'mother of Dressage'. Educated in Sweden, Elisabeth is currently Chief National Dressage Judge of Barbados.

In 1994 the BEA became affiliated to the Federation Equestre International (FEI) and since 1995 Barbados has been participating at International Championships in both disciplines (show jumping & dressage), with great success in the FEI World Challenge, as champions from 1998 - 2002.

The BEA Junior Jumping team was the Caribbean Equestrian Association (CEA) Junior Jumping Challenge Champions many years running. The CEA was formed in 1998 to organize Inter-Caribbean meets.
Later in 2004 Barbados gained silver in the finals of the FEI World Dressage Challenge.
With all the Events and help from International coaches in recent years, Dressage has risen to high standards now having Local Riders competing up to grand Prix.

Thanks must go out to the Local Association for their major effort in getting more Locals and Visitors involved.

Major Competitions being organized by the BEA annually are the FEI World Challenge Competitions, the CEA Junior Jumping Challenge and the CEA Dressage Challenge. The CEA competitions are both run under the official FEI Rules pertaining to each of the disciplines with a few improvisations which are intended to aid in the promotion of participation numbers.

As always, visitors are more than welcome to contact any of the Horse Riding Centres / Equestrian Centres.
For more information on Equestrian activities and events in Barbados, check out our Events Calendar.
Contact
Barbados Equestrian Association (BEA)
Website: http://barbadosequestrian.com/
Ride Barbados / Cleland Equestrian Facility - BEA Member
Jahworks Stud & Riding Stables - BEA Member

Beau Geste Stables
Contact: Allison Cox
Tel: (246) 429-0139
Big C Stables - BEA Member
Contact: Di Clarke
Tel: (246) 437-4056
Brighton Stables
Tel: (246) 425-9381
Congo Road Equestrian Centre - BEA Member
Contact: Roberta Foster
Tel: (246) 423-8293
Sandy Turf Stables - BEA Member
Tel: (246) 427-4768
Ms. Angelique Bjerkhamn

Mrs. Elisabeth Roachford
Mrs. Tristan Cass-Blades
Dressage - Mrs. Tove McIntyre
Show Jumping - Mrs. Mona Walker